Fact Sheet
Name & Website: https://rugpullindex.com
Address: 0x005241438cAF3eaCb05bB6543151f7AF894C5B58
Country: Germany
Email: tim (at) daubenschuetz (dot) de
Elevator pitch: S&P500 for data
Categories:
Funding Amount: 13000 OCEAN (we need roughly 7k EUR)
Remaining Grant Treasury Balance:

5828.19 OCEAN
0.43 ETH
3.573,81 USDC

Previous Grant receiver?: yes
Executive Summary
rugpullindex.com helps data scientists and investors to make better decisions when buying data online. Our thesis is that markets are proxies for assets' qualities.
On-chain markets present a huge untapped source of market insight ready to be harvested. By measuring and highlighting the qualities of OCEAN's data sets, we improve the market's overall health and performance.
Our long-term goal is to build an ERC-20 token that allows investors to gain diversified exposure to OCEAN's best data sets.
Here's our proposal for OceanDAO:
Video proposal (click to YouTube video)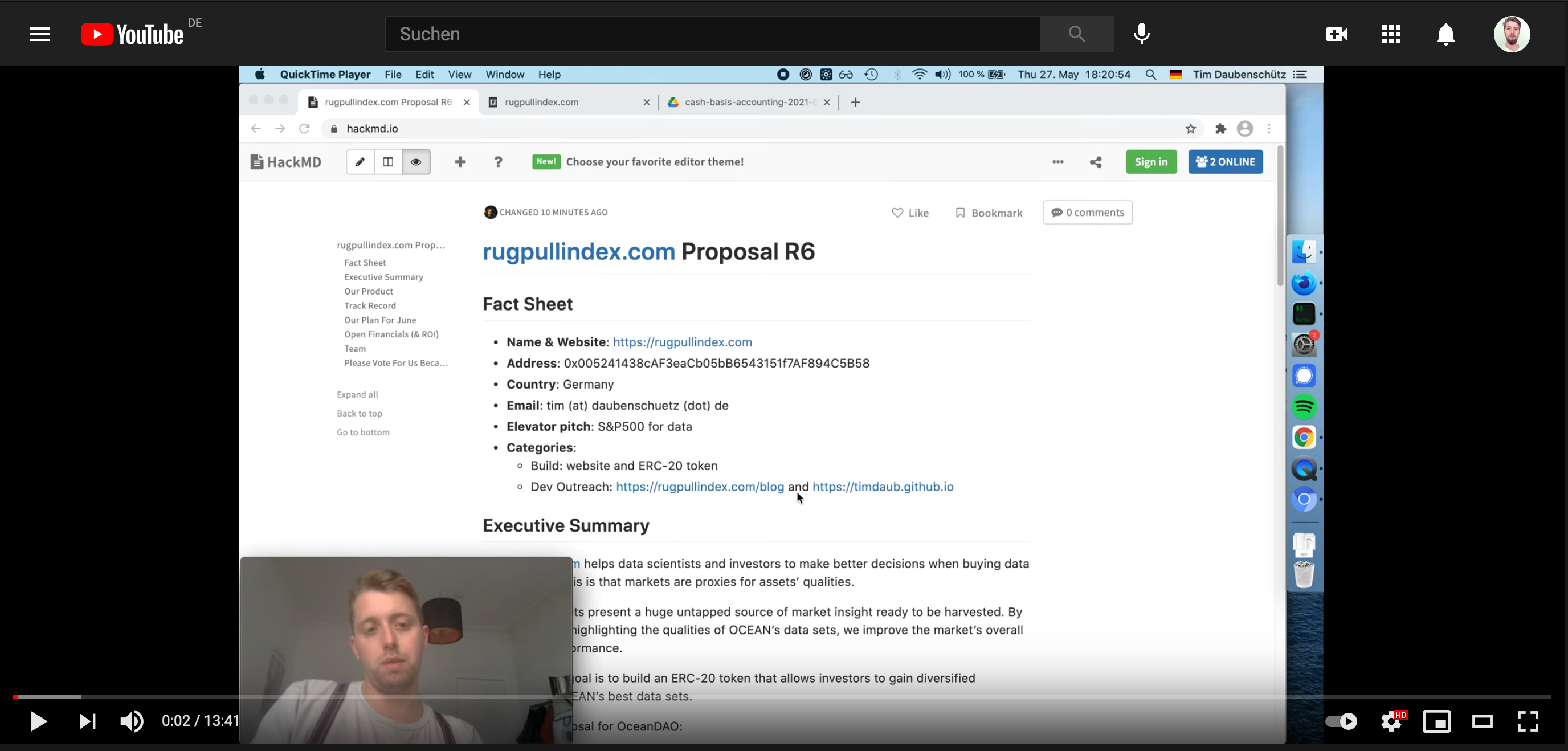 Our Product
Website: https://rugpullindex.com
Track Record
For more reliable runway projections, we convert a lot of our OCEAN incomes from the OceanDAO into USDC: R2, R3, R4, R5.
Since the project's beginning, our blog has been updated frequently to show the project's progress. In May, we've:

We published a blog post on:
We added Big Data Protocol assets into the index (post)
We released a public API
We've started open sourcing components on our GitHub organization
We've started doing business development research in collaboration with @Scotty
Website Analytics (as of 2021-06-01):
| | Jan 2021 | Feb 2021 | Mar 2021 | Apr 2021 | May 2021 |
| --- | --- | --- | --- | --- | --- |
| Unique visitors | 254 | 538 | 468 | 462 | 841 |
| Pageviews | 302 | 737 | 764 | 758 | 1300 |
| Outbound clicks (abs & percentage) | 0 | 0 | 0 | 17 (6.9%) | 274 (17.7%) |
| Duration | 30s | 31s | 1m 3s | 1m 17s | 1m 10s |
| Total time spent by all users | 2.5h | 6.1h | 13.3h | 16.2h | 25,27h |
Notes:
Outbound clicks are tracked since 2021-04-26.
Our website analytics are public.
Outreach:
Finally, our content marketing strategy that involves outreach via blogging is starting to carry fruits. In May, we've logged 456 unique visitors to RPI's blog.
Blogging about crypto content over on Tim's personal blog is accelerating this effect. Over the last 12 months, it had a total of 66k unique visitors from blogging about Ethereum related content.
Our Plan For June
Market API and help our customers to integrate it
Continue user research to improve the website conversion
Improve scalability of on-chain crawler to improve data quality, quantity & currentness
Start implementing insights of rollup research into prototype transaction aggregator smart contract
We want to continue working towards launching an ERC-20 token to allow investors to gain diversified exposure to the best data assets on Ocean Protocol.
Open Financials (& ROI)
We've done a detailed ROI calculation in Round 2 that continues to apply.
To improve financial transparency we're publishing a cash-basis accounting statement from 2021-05-25: document (pdf)
For an extended discussion about ROI, please see the comments of this thread.
Team
Tim Daubenschütz
Background: My "About" page and CV
Scott Milat
Roles: Business Development
Please Vote For Us Because…
rugpullindex.com delivers reliable market insights 24/7.
We give you transparent insights into our proceedings by writing blog posts, by shipping regularly, and opening up our accounting.
our work informs the Ocean Core team's product development cycle positively.
you're helping me to make a living and bootstrap a real crypto startup <3