Fact Sheet
Name & Website: https://rugpullindex.com
Address: 0x005241438cAF3eaCb05bB6543151f7AF894C5B58
Country: Germany
Email: tim (at) daubenschuetz (dot) de
Elevator pitch: S&P500 for data
Categories:
Recording from Town Hall 20 (April 28, 2021)
If you're too lazy to read, feel free to check out this video of me going through the proposal.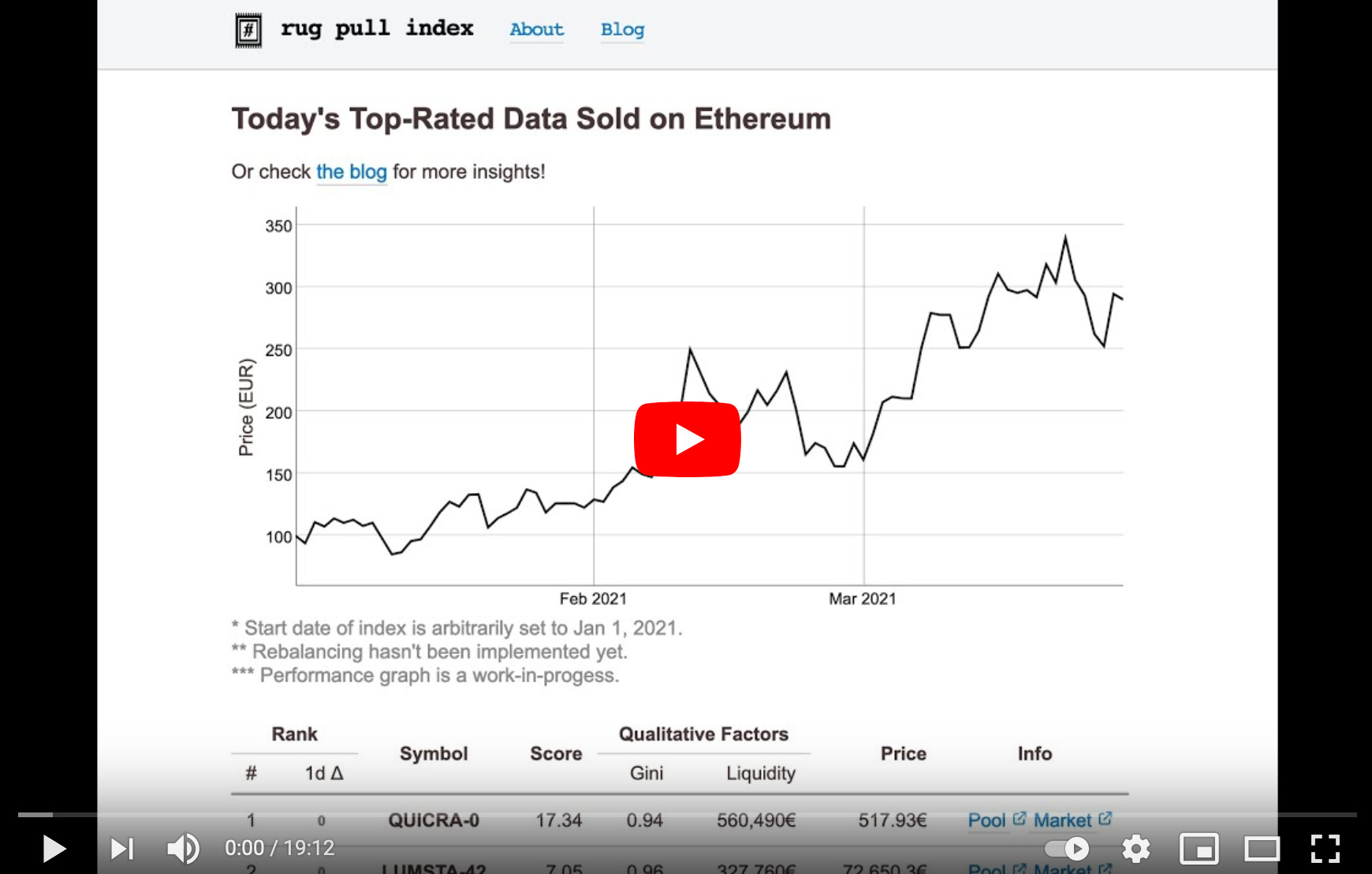 Executive Summary
rugpullindex.com helps data scientists and investors to make better decisions when buying data online. Our thesis is that markets are proxies for assets' qualities.
On-chain markets present a huge untapped source of market insight ready to be harvested. By measuring and highlighting the qualities of OCEAN's data sets, we improve the market's overall health and performance.
Our long-term goal is to build an ERC-20 token that allows investors to gain diversified exposure to OCEAN's best data sets.
Here's our proposal for OceanDAO Round 5:
Our Product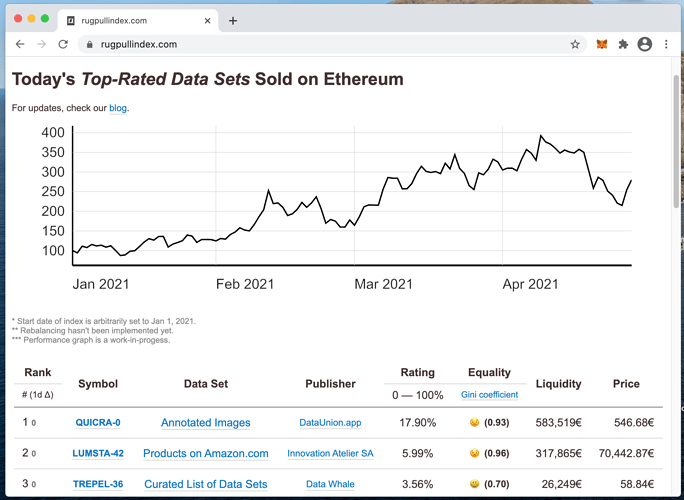 Website: https://rugpullindex.com
Track Record
For more reliable runway projections, we convert most of our OCEAN incomes from the OceanDAO into USDC: R2, R3, R4.
Since the project's beginning, our blog has been updated frequently to show the project's progress. In April, we've:
Website Analytics (as of 2021-04-28):
| | Jan 2021 | Feb 2021 | Mar 2021 | Apr 2021 |
| --- | --- | --- | --- | --- |
| Unique visitors | 254 | 538 | 468 | 462 |
| Pageviews | 302 | 737 | 764 | 758 |
| Duration | 30s | 31s | 1m 3s | 1m 17s |
| Outbound clicks to OP-related websites | 0 | 0 | 0 | 17 |
Notes:
Outbound clicks are tracked since 2021-04-26.
Our website analytics are public.
Our Plan For May
We want to improve the website's user experience by, e.g., allowing different currency bases, comparing data sets, …
We want to integrate other marketplaces (e.g., Big Data Protocol) and L2 solutions (e.g., Polygon) upon impact on our index ranking.
We want to do SEO.
We want to maintain the project by, e.g., moving from Aquarius to the OP subgraph.
We want to continue working towards launching an ERC-20 token to allow investors to gain diversified exposure to the best data assets on Ocean Protocol.
Open Financials (& ROI)
Team
Tim Daubenschütz
Background: My "About" page and CV
Please Vote For Us Because…
rugpullindex.com delivers reliable market insights almost 24/7.
We give you transparent insights into our proceedings by writing blog posts, by shipping regularly, and by opening up our accounting.
our work informs the Ocean Core team's product development cycle positively.
you're helping me to make a living and bootstrap a real crypto startup.
we'll extend our pledge to convert received OCEANs into USDC to increase our runway.