ALGA Ocean Market Mobile Wallet - v1.0 Release!
Proposal Application Details

Ethereum Address - 0xbbd33AFa85539fa65cc08A2e61a001876D2f13FE

Twitter Account

Telegram

Data Whale's Website

Data Whale's Blog

Web3 Data Economy YouTube Channel

info@datawhale.online

Country of Residence - United Arab Emirates

Our Round 13 Pledge: 21'500 US$ (22,631.57 OCEAN)

Grant Reason
Build and Launch a Data Token mobile application integrated with Ocean Protocol Market.
Develop a greater awareness about the Ocean Data Market through new website and other initiatives.
Proposal Summary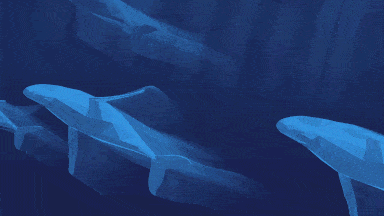 Data Whale's primary objective for 2022 is to develop tools and communication that support the awareness about Ocean Protocol's Web3 Data Economy. Throughout last year, we realized that we need to simplify this broad subject and make it understandable for the general public, targeting both a crypto-proficient and non-crypto target audience. Have a look at our Round 13 Deliverables that kick off our Roadmap for 2022 below.
Round 13 Deliverables
ALGA
[ ] Major Milestone! To finalize the ALGA App and get it ready for Upload to the Google Playstore and Apple App Store by February 2022.
[ ] To launch initial version of the ALGA landing page under DataToken.App with optimized content.
[ ] To finalize following development to the ALGA user experience and app functionality.
Handle Sessions
Notifications
User Transaction History
Miscellaneous fixes relating to [currently] hardcoded sections
Ocean Market Third Party Technology
[ ] With the help of the team at RugPull Index, we will integrate historic Ocean Market Pool Liquidity Data for all Data Token Liquidity Pools and Ocean Market TVL since January 01, 2021 in to the API available at RugPull Index [currently only gathering Data Token Pricing]. This data can then be used by third party developers and will also be integrated to our ALGA dApp. Total Estimated Development Cost: ~3,600 US$.
Read More Here: https://gist.github.com/TimDaub/8bd968ebf2a5f3e18b98ee870e41b123
Ocean Outreach
[ ] To initiate our 2022 Ocean Outreach Strategy and launch DataWhale.ai, our re-branded Website featuring Ocean Data Market Tutorials, Ocean Outreach Bounties and other content!
[ ] To continue generic outreach initiatives on Twitter and YouTube
Others
[ ] To provide an initial UI-design for DataToken.Market, our web-based Ocean Market interface.
Data Whale Roadmap
In 2022, we want to play a central role in supporting the Ocean Protocol Outreach. We want to help making the Web3 Data Economy a thing.
Ocean Protocol Data Market Tools
Our objective building 3rd party Ocean Data Market tools is to create a foundation for adoption of the Web3 Data Economy.
ALGA Mobile App Development [DataToken.app]
Introduce compatibility with Ocean Market v4 after launch
Introduce the Polygon EVM to ALGA
Continue improving the Backend and UI/X of the App to make it even easier to engage with the Ocean Market.
Build a strong user base with the help of DataToken.App (our landing page for ALGA), introduce trading competitions on social media and launch marketing activations.
DataToken.Market
We will introduce our browser-based DataFi app DataToken.Market. It will replicate some functionalities of ALGA and will also help users stake and swap their favorite Datatokens with the help of $OCEAN.
DataWhale.ai Launch
Our new website will not present Data Whale as a business/startup. We will transform Data Whale into the go-to platform for all resources relating to the Web3 data economy. Our content will be SEO optimized for data buyers, publishers and investors. We will explain the functionality of the Ocean Market in step-by-step tutorials and much much more. Here's the example!
Ocean Outreach Coop
Outreach Bounties
Based on requirements, we will out-source outreach activities, including marketing and optimization, to members of the community. We will incentivize community members that are interested to help us achieving our goals.
Thanks to Deep_Data_Diver, Neverlucky, Antaraxia & Porwinii for being OG Contributors
Ocean Data Market Impression Mining Program
Our aim is to generate 1'000'000 impressions for the Ocean Market at the cost of 10'000 $OCEAN with the help of the community. Read more about our plans here
Thanks to SupplyDeFi for being an OG Contributor
Ocean Protocol PR and General Outreach
We will continue to strive creating Ocean Protocol Content across our social media channels.
We aim to establish partnerships with digital agencies, influencers and other collaborators to scale our content with the goal to encourage a wider awareness.
Launch Datasets
We will continue launching valuable datasets with a high focus on generating data consume value to maximize data farming rewards upon launch of Ocean Market v4.
2021 Achievements
Developed and launched a beta-version of the Ocean Market ALGA Mobile App on the Apple App Store and Google Playstore with 250+ user registrations.
Finalized v1.0 of ALGA, re-designed the UI and integrated the App to WalletConnect with a working integration to Ethereum to stake to Data Liquidity Pools and swap Datatokens.
Generated more than 100'000 $OCEAN in network value through swap fees, consume volume and TVL.
Outreach Achievements:
YouTube: 300'000 Impressions

Twitter: 1 Million+ Impressions [below for 3 months only]

Our Team
Data Whale Design Lead
Name: Luana Aires
Twitter: https://twitter.com/luanaairs
All design-related activities
ALGA
DataWhale.ai
DataToken.app
DataToken.market
ALGA Development Lead
Name: Omar Saadoun
https://www.linkedin.com/in/omarsaadoun/
Leading:
1 Project Manager
1 React Native Frontend Developer
1 Web3 Backend Developer
Data Whale
Name: Moritz Frings
Role: Team Lead

OceanDAO Criterions
Criterion 1: Ocean Value-Add
Usage: All our efforts and tools aim to make the engagement with the Ocean Market more seamless via a dedicated mobile app for iOS and Android, as well as a Web3 Datatoken platform.
Viability: Given the progress we have made and the WalletConnect integration, we estimate the chance of success for completing both projects at 90%. In addition we have continuously build a potential user-base across our Outreach channels and are experiencing daily sign-ups on our beta app.
Community Active-ness: We are an integral part of the Ocean community and active across several channels.
Adding Value: Our primary objective is to add value to the general Ocean eco-system. Our content appeals to a variety of audiences with different level of understanding about the Web3 data economy.
Criterion 2: Ocean Protocol's Mission & Values
Evidently, we are aligned with Ocean Protocol's Mission & Vision to unlock the value of data across all levels of society. Kindly visit our Blog for a deeper understanding of our views.
Criterion 3: Ocean Protocol's Mission & Values
We meet the minimum requirements of $OCEAN funds in our wallet linked above.
Updated ROI Calculation & Finances
Our project can prove a net positive network effect for Ocean Protocol of over 100'000 $OCEAN in 2021!
Actualized BANG in $OCEAN (Success = 100%, as of 25.11.21):
TVL in Data Whale Liquidity Pools (excl. Publisher): ~37'411 $OCEAN
Swap Fees Generated: ~60'000 $OCEAN
Data Consume Volume: ~24'895 $OCEAN
The estimated network value for 2022, including the actualized numbers above is calculated at more than 500'000 $OCEAN. Contact us to learn more.
Detailed Data Whale Financial Statement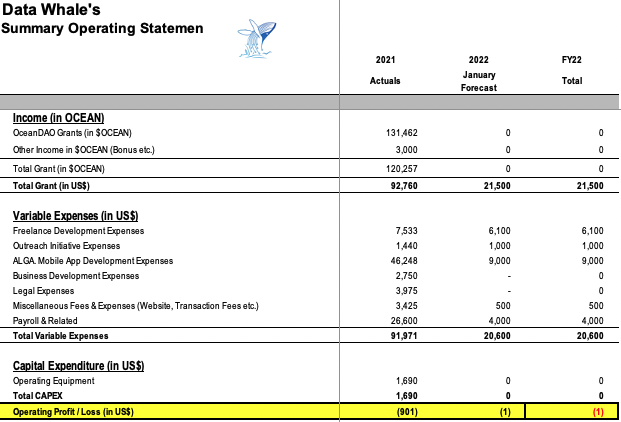 Conclusion
We thank you for your support throughout and are looking forward to scaling our activities with your help in 2022! It's not about if the Web3 Data Economy will experience mass adoption, it's a question of when it will happen. Until then, we keep #buidling so we are ready when it happens.
We remain at your disposal for any questions. Contact us on one of our many channels. Please review our proposal and comment below should you have any concerns.
Sincerely,
Data Whale