Love this too, is it started already or till after funded.
@idiom-bytes love this

Is all work in the WGs going to be rewarded like this or is this a project-guiding working group extra?
As mentioned yesterday in the Townhall, Workgroups (will) continue to play an integral role in the Ocean eco-system! It would also be great to add a due diligence summary based on pre-defined metrics.
Is all work in the WGs going to be rewarded like this or is this a project-guiding working group extra?
This is still not clear. The type of work and reward being performed in WG's will vary. Even if this proposal is not accepted, a coordinape circle will be deployed, Epochs will be completed, and WG processes will be implemented to establish the group. Retroactive funding if applicable, could then be deployed.
This proposal then serves only to provide funding ahead of time (delivering work and value) to establish intent.
I have proposed this WG because:
Right now we have a very low engagement with proposals in Port.
There isn't a good process or motivation for existing participants to onboard newcomes or review each other
The work involved here is not "sexy" or leading directly to potential personal benefits (i.e. working closely w/ funding parameters, earmarks, or core-tech, and identifying new initiatives to receive grants).
The work extends well beyond the weekly meeting. WG Members need to engage with grantees, organize calls, understand their projects, provide feedback, read updates, and continue to provide signal for the network.
It would also be great to add a due diligence summary based on pre-defined metrics.
Could you perhaps expand on this @realdatawhale?
Right now, the key metrics I hand in mind were [% coverage provided] and [coverage / project].
Hi there,
For transparency, starting R12, all proposals will have to be funded within 2 weeks of winning a grant.
The funding deadline is December 27th 23:59 GMT.
You can read our wiki and how to submit a funding request to learn more.
This could include:
To develop an auditing framework and incentives to conduct due-diligence and identify achievements or shortfalls of OceanDAO proposals.
Personally, I'd love to have a "digestable" executive summary on each proposal that was written within a pre-defined audit framework.
Hello!
I am Takeshi from Ocean protocol Japan.
https://twitter.com/oceanprotocolJP
Since Ocean Protocol Japan proposal is bimonthly and not this month, I voted for this project.
Let's revitalize the Ocean ecosystem together, those of us who have supported Ocean since the dawn of time!
Thank you @realdatawhale, I will be working towards implementing this as part of the responsibilities for PGWG members.
I will provide you with an outline for this ASAP, and hopefully continue to iterate with you/community.
I have now completed a wide range of activities for this grant proposal.
[x] A social process for reviewing and providing guidance for projects both new and old inside of OceanDAO.
The working group is now up and running on Discord. I have updated the PGWG outline to include all high-level concepts and important information required to onboard and teach Evaluators how to run the process.
I have created the PGWG Evaluator User Guide to clearly lay out the values, processes, and each step along the way so participants can expand on the Evaluator framework by adding new Journeys & Activities.
I have created 2 instructional youtube videos that take participants over the Introduction and Proposal Review Journey, in order to take a proposal to completion. You can find a post on discord explaining them further here.
Finally, I have created a Guidance Tracker Spreadsheet so Evaluators can assign themselves to projects, in addition to Welcome, Review Grant Deliverables, and finally Reviewing Projects & Proposals.
[x] A coordinape rewards circle for PGWG starting R12 -> 13
I have deployed a Coordinape circle, started the first epoch, and onboarded 4 participants to it. Although this is a good start, we want to make sure we have enough participants who can successfully review all grant proposals.
[x] 3 GIVE epochs for PGWG over the next 3 months
This is easy to complete and we'll continue to do them based on funding available. At this point, I have also laid out the PGWG roadmap, where we'll be improving the fund distribution automation in order to make it easier for the PGWG to distribute funds, in addition to other WGs such as Ambassadors.
Hi @realdatawhale, I have submitted various updates to this grant proposal and I would love to get your help/feedback/insights as to how we can improve the process.
You can find the User Guide & PGWG Outline in the update above, in order to find the templates and basic implementations that we have delivered up-to-now. I would love to identify how we can continue to improve this process.
Please feel free to drop us a line in our Discord Channel, or by replying here.
All the best!
Thanks

I browsed through the material and especially liked the Videos you put up.
One thing that would surely drive participation is issue DAO Bounties to community members to review proposals and deliverables in detail. I would have loved to see a "DAO Auditing" Proposal, but so far nobody has picked up this idea. In order to encourage people to conduct due diligence on the proposals, DAO bounties may be a good incentive.
Just throwing some thoughts here

Hi @realdatawhale, this is exaclty what I'd like to work towards with the PGWG Evaluators.
Please view the 2nd video, to grokk the:
Welcome -> Checklist Review -> Proposal Review process.
We could use improved direction & development of a "DAO Auditing Journey" or "Activity" depending on the size of the work involved. This "DAO Auditing Journey" would then be added to the User Guide, where all participants would then start working towards completing it.
Part of Coordinape that is fantastic, is that I can start automatically providing feedback to the WG + Circle, that I will provide more GIVE (or Token Reards) to participants that start engaging in certain activities.
So… Here I propose and am setting a bounty of 50 GIVE, who works with @realdatawhale to help improve the existing User Guide and WG Knowledge, in order to:
Define the "DAO Auditing Journey" (somewhere)
Documenting the "DAO Auditing Journey" (in the User Guide + WG Outline)
Making sure that @realdatawhale is happy with the results.
I would like to propose inviting @realdatawhale to consider joining the Coordinate WG Circle, help understand the challenges of doing the audit, and helping to establish this process.
All the best,
Hello @realdatawhale,
A DAO Auditing is a WIP at the moment as part of PG-WG & well in plans.
Prior to that I'd like to bring to the notice of both you & @idiom-bytes that as part of Indian Outreach program, I had been doing my own auditing as well of projects in my own style ~ so I was actually still doing it

Maybe it can be an inspirational template if you guys like any of the following format.
R11 through Medium
https://medium.com/@indianoceandao/readers-digest-oceandao-round11-part-1-eaf41b8498e8
R 12 https://twitter.com/OceanProtocolIN/status/1469174775515803648
Through Tweet-storm of blob reviews (of all Proposals) followed by a Bounty
@richardblythman had won the bounty for the R12 Tweet-summary of projects.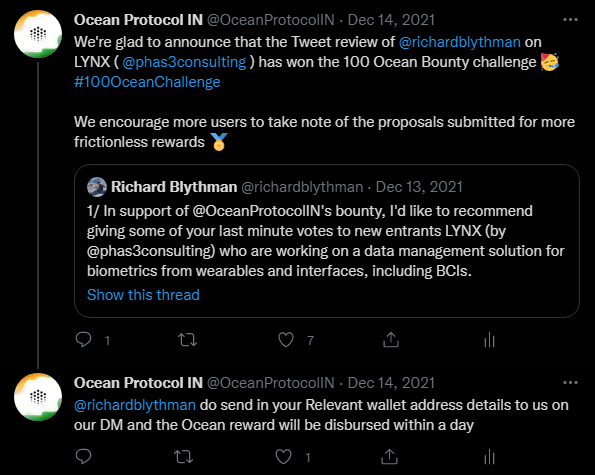 So for R13, we have quite a few deliberations to do as @idiom-bytes had kick-started the discussions on the Discord channel as well.
I would welcome comments from both @realdatawhale & @idiom-bytes to streamline a simpler audit of
A) R13 proposals as they pass through the due diligence (note that this takes time for all proposals but rest assured, it should be done before the due diligence phase ends)
B) Future audits of proposals seeking support during the PG-WG calls.
Thanks
Prakash
Hi @drprk, thanks for pointing to your previous work and summaries.
@realdatawhale, would you be able to take a look at what Prakash shared, and perhaps provide some examples of what your "Definition of Good" looks like?
I would love to both if possible:
Improve quality of reviews/evaluations.
Maintain or Reduce number of Evaluator Journeys & Activities, as defined in the Evaluator User Guide
I'm not sure exactly how to do #2 because it already seems like the most 101 path:
Welcome Proposal -> Review previous Grant Deliverable Checklist -> Provide review on latest proposal
Hey All,
In my opinion a separate Channel purely focusing on reviews would the trick to provide a single resource for the community to read or view the audits. My definition of good is probably quite subjective

I think it's important to get things going and then we improve from there. Personally, I love video summaries, they're just so easy to digest, especially for people with time constraints.
Alternatively, we could implement a review page on OceanPearl, to have only ONE resource.
Just a few thoughts, I wish I had the time to dig more into this subject, as I'm really passionate about it. I'll definitely try to provide my input from time to time!
Those are all great suggestions @realdatawhale.
Separate Channel (or some other way to signal these)
Video Summaries
Ocean Pearl review page or some other mechanism to signal positive reviews
I agree that the top priority if "get things going and then improve from there" but I love your thoughts. Maybe we'll see you in a meeting, but I look forward to continue to improve the PGWG. Thank you!
Thanks for the feedback @realdatawhale,
As @idiom-bytes mentioned, lot of iterations are being planned. We are also hoping to work with Deep-data diver with his proposal that focusses on video-reviews as well.
We hope to find both your involvements from yourself and @DeepDataDiver on some of the PG-WG calls or discuss async on the Project-guiding Discord.
Regards,
Prakash