Project Name
WeDataNation
---
Project Category
Build & Integrate
---
Proposal Earmark
General
---
Proposal Description
With this grant we will cover the final costs for the development of the first version of the upload & import mechanism for social media / e-commerce datasets of individuals. Additionally the development of the first data-analytics mechanism will begin.
---
Grant Deliverables
Upload & Import function for social media / e-commerce data of individuals
Grow follower base of all WDN social media channels
Minimum 6 Translations of Ocean blog articles for the german community
Increase potential customer base of german companies & marketing agencies for the market research solutions we are offering
Keep up cooperation with and try to achieve investment of Blockchain-Founders-Group
---
Project Description
WeDataNation is a project to create a counterweight to today's big-tech dominated data aggregation economy, to finally put the power over data into the hands of its rightful owners.
The core developement started in February 2022 as part of the Blockchain Founders Group Accelerator Programme; By participating, we were able to win over some of the most renowned German professors and visionaries in the field of blockchain as advisors by conviction for our project.
Furthermore, there is a cooperation with DataUnion and mPowered, two companies that have been actively working in the ocean protocol community for many years.
WeDataNation adds value to Ocean Protocol's vision of unlocking a decentralized Web 3.0 Data Economy through the following contributions :
Development :
Easy to use app for individuals to get insights on their data from various sources (social media, e-commerce, gaming, streaming, wallet), decide on its usage, validate datasets and earn passive income through the monetization mode
Webportal to create and validate algorithms and earn passive income for the provision
Outreach :
Actively promoting Ocean Protocol in articles and postings for the broad masses and to potential investor and person of interests through pitches, interviews or other forms of networking (Ocean Protocol is always presented as the underlying technology on which WeDataNation designs all of it`s targeted services
---
Final Product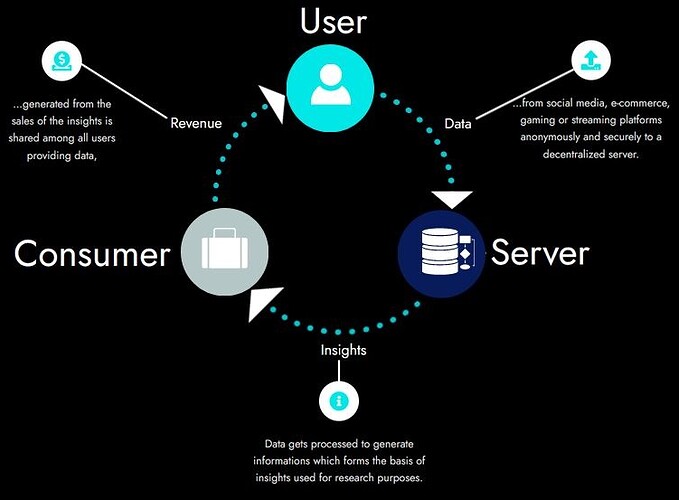 The final product will be a system which contains data of private individuals, who are willing to grant permission to this data via Ocean Protocol's compute-to-data in exchange for a financial compensation.
---
Value Add Criteria
Usage of Ocean Protocol:
We will add a significant data-consume volume to the network through finding a lot of lead-customers whose only way to analyze the data we provide is to purchase access rights via the ocean protocol
Viability very likely through four aspects:
Partnership and support of DataUnion & mPowered

Broad connected ecosystem inside the financial & startup branch, through 8 years of background from our CEO.

Worldwide networking through Blockchain-Founders-Group

Actively seeking investors to secure further support, collaborations or accelerator programmes.
Community active-ness:
Our technical advisor Robin Lehman (CEO & CTO - DataUnion Foundation) is a member of the DAO for many years. Our CEO Henry Griesbach and Raphael Hagemann as part of the WeDataNation core team actively take part in upcoming Ocean DAO events to support the community and establish more connections inside of this great project. Both are part of the ambassador program and do tasks of the activity farming. Our new team member Bhalisa Sodo is also a well known member of the community and social media manager for the Ocean Protocol Ambassador`s Twitter account.
Adding value to the overall community:
By establishing an easy way for private individuals to join a pool for selling their data the overall awareness of Ocean Protocol will rise. In addition the need for algorithmic programmers will rise, as this task becomes a significant factor to connect collected data to potential buyers via insights created from the data.
---
Core Team
Henry Griesbach
Role: CEO
Relevant Credentials:
Background/Experience:
Technical Trading Support at germans biggest retail equity market maker
Financial markets expert
External Advisor for the "financial Tinder" - Vickii
Raphael Hagemann
Role: Business Operations
Relevant Credentials:
Background/Experience:
AI Student @ International University of Applied Sciences
Project & Systems Management and Regulatory Compliance at germans biggest retail equity market maker
Bachelor of Arts @ Banking & Finance
Martin Till
Role: Go-To-Market & B2B Strategy
Background/Experience:
Sales Professional - Go-to-market Salesphere (mVISE AG)
Business Development Manager (ETL Group)
Account Manager (Sage Software Group)
Paul Durau
Role: Social Media Growth Strategy
LinkedIn: https://www.linkedin.com/in/pauldurau/
Background/Experience:
Marketing Enthusiast
Instagram & YouTube Consultant
Content Manager & Creator
Growth Hacker
Bhalisa Sodo
Elias Mendel
Role: Busines Development
Background/Experience:
Community Manager LunaVision
Scientific Article Writer
---
Advisors
Robin Lehmann
Role: Technical Advisor and early stage supporter
Relevant Credentials:
Background/Experience:
CEO, CTO and Co-Founder of DataUnion Foundation
Ocean Protocol Ambassador
Louis Schulze
Role: B2B Advisor
Relevant Credentials:
Background/Experience:
Berthelsmann Accelerator Programm
Hinterland of Things
Web3 Podcaster
Nathan Vandy
Role: Blockchain Law and Governance
Relevant Credentials:
Background/Experience:
Head of Legal - WACEO
Legal & Compliance @ Blockchain Helix
Max Zheng
---
Funding Requested
12500
---
Minimum Funding Requested
100
---
Wallet Address
0x22Fd7511362bD68976B6eD643C771dCDb7DFf501
---