Name of Project:
RAZ: Impact Finance Evolved
Watch our introductory video
View our information deck
Measure and manage your impact across our Network
Watch our new YouTube channel
Engage with our progress on Telegram, LinkedIn, Twitter and Instagram
Proposal in one sentence:
RAZ catalyzes decentralized economic opportunities
by providing collaborative ESG, sustainability, impact and investment data management solutions that enable the realization of verified outcomes
Description of the project and what problem is it solving:
A new, more conscious, generation of investors and stakeholders expects meaningful progress towards the Sustainable Development Goals alongside positive impact and ESG outcome realization.
By 2025, 1/3 of global assets under management, representing 53 trillion dollars, will be classified as "Sustainable" and "Environment, Social and Governance" investments.
Although regulations are emerging that mandate disclosures, self-reported data just isn't enough anymore.
It's time to raise the bar.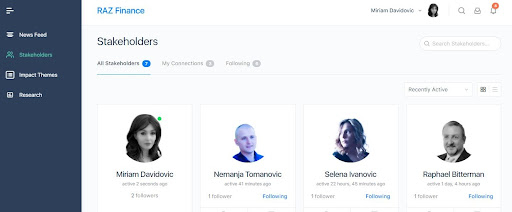 Our team is leveraging tangible, verified, technology-driven outcomes to catalyze capital for world-changing social and environmental innovation.
Through an equitable investment lens powered by blockchain technology, RAZ Finance is opening doors for efficient due diligence and increased investment liquidity.
Although capital inflows are changing the investment landscape, inadequate solutions exist to answer,
"how do investment strategies driven by ESG, sustainability and impact lead to economic benefit?"
and
"how do we know that positive change is being catalyzed by our capital"?
RAZ is being developed in response to both questions.
Through our network, investors, companies and their stakeholders verify data and claims from how capital is allocated, to how integrated financial, ESG and sustainability outcomes are realized alongside positive impact.
The Past
Transparency = Publication
The Future
Transparency = Stakeholder-Verified Data
RAZ substantiates commitment to:
Impact themes and metrics | ESG strategies | Sustainability targets and indicators
by tracking progress according to established frameworks
based on capital deployment decisions and the influence of outcomes on financial performance.
When a company uploads documentation and proof of their impact, stakeholders are engaged to verify data, document and track progress.

Data is captured across an unalterable timeline while stakeholders and verifiers influence outcomes in measurable, positive ways across the landscape of:
Capital Deployment | Impact | ESG | Sustainability | Financial Performance
stakeholder groups verify actions and results while they are still unfolding in alignment with
investor themes and strategies, best practices, standards and regulations.
For companies, investors and asset managers, the benefits of engaging with RAZ extend to:
Tracking the influence of impact-driven capital deployment and decision-making on financial performance
Stakeholder inclusion in the process of proving that meaningful progress is being realized
Transparent, blockchain-based, impact verification, and the transformation of genuine outcomes into tradable assets
Faster and more efficient due diligence
Increased access to capital, investment liquidity and asset trade across a decentralized market for verified sustainable and impact investment opportunities.
| Challenges: Finance, Impact and ESG speak different languages | Solutions being developed by RAZ |
| --- | --- |
| ESG-related financial performance data is largely driven by public capital markets. The potential of impact, ESG and sustainability-driven investments is limited by a traditional focus on exponential growth and public market trading. Investors have limited liquidity in fast-moving private markets driven by increasingly conscious consumer demand. | The RAZ dashboard tracks data from companies at all stages of growth. Stakeholder-verified positive impact alongside financial data facilitates due diligence and investment through transparent, blockchain-enabled, transactions and smart contracts. Investor liquidity is strengthened by secure and tokenized data, leading to increased access to capital for mission-driven companies. |
| Across the venture capital and private equity space, there is limited data on how impact and ESG strategies lead to financial return.This results in trapped value and misaligned incentives between growth and impact. | Capital deployment towards the realization of Impact Themes is tracked from the onset of an initiative. Timelines related to impact, ESG and sustainability outcome realization are correlated to revenue, substantiating how decision-making influences financial performance. |
| Many investors are challenged by limited vetted, investable and impact-verified opportunities, high investment minimums, and low quality deal flow. Individuals, family offices and private or sovereign funds seeking to explore investing into ESG and impact-driven opportunities are hesitant and reluctant to take long term capital-intensive positions. | Datasets compiled by RAZ across shorter, project-based timelines, facilitate integrated impact-financial vetting and due diligence, leading to increased capital inflows. RAZ tracks how capital is allocated to ESG, sustainability and impact initiatives, while measuring the influence of outcome realization on financial performance. Near-term results across fixed timelines can be verified by all stakeholders. Dealflow is improved through collaboration between the RAZ network and ecosystem partners. |
| ESG and impact metrics are not universally standardized. A market need exists for the clear and transparent ranking of companies and investment opportunities. | Companies and initiatives can customize their chosen metrics and seamlessly report on integrated outcomes through a single SaaS platform. RAZ facilitates the indexing and ranking of company performance as part of its DeFi-driven impact, ESG and sustainable investment market. |
Grant Deliverables:
Grant Deliverable 1
Impact in Action: Practical impact measurement and management, stakeholder engagement, ESG and sustainability datasets traded on the Ocean Market
RAZ Finance is curating an "Impact in Action" dataset for the Ocean Market that showcases:
What are the practical steps involved in developing Impact Business Models according to the B Impact Assessment?
What do companies and their team members need to do to achieve B Corporation Corporation certification?
In practice, what actions need to be taken to realize genuine progress according to impact metrics and reporting frameworks including IRIS and the GRI?
How do stakeholders engage with and verify progress according to social and environmental Key Performance Indicators, sustainability targets and indicators, alongside ESG and impact assessments?
What do "best practices" look like when it comes to policy and program development related to positive Environmental, Social and Governance outcomes?
How does sustainability overlap with financial materiality?
RAZ is onboarding more companies, asset managers and partners, including SDG Impact and YK Center projects with the goal of managing 20 active platform accounts by January 1st 2022.
Datatokens will be associated with verified product impact data as well to facilitate the trade of certified organic and sustainable, fair-trade products.
Integration of the OCEAN Protocol as part of RAZ Finance business development, marketing and investor presentations. Marketing and promotion of the Ocean network via RAZ social media channels and websites. Cross-promotion of Ocean DAO members actively measuring and managing their impact, sustainability and ESG data.
Accomplishments:
As part of our Round 8 grant, we have started compiling data, and making it available on the Ocean Market, based on our first early adopter projects, including those with Roshem Impact, a a Certified B Corporation, and two companies working towards B Corp certification: Maven Hemp and Shah Hemp Shah Hemp (Nepal's first B Corp).
Grant Deliverable 2
RAZ Network membership revenue generated via OCEAN
The RAZ Network https://raznetwork.net and individual data management platforms customized through https://razfinance.io will be made available to members, asset managers and companies via $OCEAN. We expect that approximately 30% of our expected subscription revenue can take place via OCEAN. As such, revenue from the project itself will generate 0.2% return to the Ocean DAO ecosystem.
Grant Deliverable 3
Impact Finance Evolved: Integrated Financial, Environmental, Social and Governance Datasets Traded on the Ocean Market by January 1st 2022
Data collected from MVP platform clients:
What's next? 5-10 investment funds and 20-30 companies
Accomplishments so far: 2 investment funds and 5 companies were onboarded and provided with a custom Proof of Concept solution within the first 30 days of our Round 8 project timeline.
Verified impact and financial datasets linked to Ocean ERC20 datatokens
Datasets provided to RAZ Finance Network members traded on the Ocean Marketplace in partnership with:
Roshem Impact - a Certified B Corporation on the 2021 Best for the World list in the Workers Impact category. Their work supports the growth and development of regenerative businesses that create solutions to the world's greatest challenges.
Which category best describes your project?
Unleash Data
Which Fundamental Metric best describes your project?
Data Consume Volume
What is the final product?:
The RAZ Finance dashboards allow companies to input data related to how they allocate investment capital, realize impact and ESG outcomes, and how their decision making influences their revenue and financial return.
A proof of concept, stakeholder-driven data management solution has been developed and deployed to track progress in accordance with customized Impact Themes.
RAZ is tokenizing datasets while driving liquidity and incremental growth in digital asset value based on data collected over time, allowing for decreased investment due diligence timeframes, increased opportunities for capital to be raised and investors to exit from impact investments.
The platform experience facilitates:
Data Inputs and Document Upload
Documentation related to impact-financial decision making, for example a spreadsheet that was sent to an investor about how capital was allocated, can be supplied by network participants. The document is verified by the project's stakeholders as well as by auditors and impact/sustainability/ESG experts. Evidence of progress is digitally signed, hashed and recorded on the Tezos blockchain.
Verification
If a company compiles ESG or impact data about its own performance, or that of its partners, affiliates, and beneficiaries those action points and reports are recorded by RAZ and verified by stakeholders, auditors and experts.
Integrated Reporting
A fund manager or investor licenses the platform in order for the companies, tech solutions, farms, and impact-driven initiatives they have invested into to be able to utilize RAZ to track and manage data while integrating their reporting.
Outcomes and datasets are secured through blockchain protocols
RAZ catalyzes
Impact verification

Digital asset trading

Reduced risk for investors

Increased investment liquidity

Faster and more efficient due diligence

Secure access to integrated impact and financial data

Opportunities for purpose-driven companies and projects to access capital more efficiently
How does this project drive value to the "fundamental metric" (listed above) and the overall Ocean ecosystem? This is best expressed as Expected ROI.
Primary Metric: Data Consume Volume
More than one third of total assets under management (AUM), or $53 trillion, will be classified as "sustainable" or "ESG" by 2025.
According to Bloomberg, McKinsey and the Global Sustainable Investment Alliance, the largest shift in capital allocation occurred in 2021, leading to a $3 Trillion inflow of investment into "green", sustainable and ESG-driven economic recovery initiatives.
ESG momentum is rising. While the next wave of growth is emerging across Europe, China, Japan and the USA, policy makers and market authorities are accelerating ESG disclosure requirements for both corporations and investors.
Based on these trends, RAZ Finance expects that the "Impact in Action" and "FESG Evolved" data consume volume will increase proportionally to our curation efforts and market forces.
RAZ data on the Ocean Market will make it possible for asset managers, investors, entrepreneurs, researchers, consultants and impact managers to access resources on what impact measurement and management, alongside "Financial, Environmental, Social and Governance" (FESG) look like in practice.
Secondary Metric: Total Value Locked
Our team's outreach efforts have introduced the Ocean Market to our partners. We intend to incentivize our early adopters, clients and network members to stake $OCEAN on our "Impact in Action" and "Impact Finance Evolved" datasets.
Project duration:
Initial pilot process completed and milestones met between August 9th and September 9th 2021
Proof of Concept: 90 days - September 9th to December 9th 2021
MVP: 6 months - December 10th 2021 to June 10th 2022
Market launch 1 year - June 2022 to June 2023
RAZ is expected to grow to being adopted by 30-50+ investment funds and 500-700 companies by the fourth quarter of business development, and to adoption by 200+ asset managers and 1500+ companies by 2023.
Through RAZ, Ocean is gaining exposure to impact investment fund managers, institutional investment managers, individual investors, companies receiving investment, and corporates as the go-to solution for dataset tokenization and trading.
RAZ aims to become a "best practice" platform for integrated impact and financial data integration.
Data as a New Asset Class: Tokenization and Decentralized Finance
While the RAZ software platform collects data and associates verification events to a blockchain ledger,
token issuance amplifies the potential of integrated impact and financial data by incentivizing:
Investors, Asset Managers and Companies
Impact and Financial Data Verifiers
to transform their data inputs over time into digital assets through:
Data Utility Tokens
NFTs - Non-Fungible Tokens
The staking of securitized data leads to monetization, trade and liquidity opportunities. Investors can diversify their portfolios. Companies can trade digital assets to increase access to capital and facilitate more efficient investor exits.
Verification experts can be rewarded with:
ERC20 datatokens
$RAZ
By staking their tokens, RAZ Network participants and Verifiers can benefit from guaranteed swap fees from subsequent staking, unstaking and data purchase activities that happen in their staked data pools.
$RAZ tokens will be minted in 2022 with utility extending to:
Capital deployment to verified opportunities

Access to premium features across the RAZ network

Trade of integrated impact-financial datasets

NFTs
Funding Requested: $17,500 USD
Proposal Wallet Address: 0xf8388c804061d08b757BAef8d9bB5f9eF8BA90D1
Have you previously received an OceanDAO Grant (Y/N)? Yes, during Round 8.
Team Website: RAZ Finance Network https://razfinance.net
Data Management Platform: https://razfinance.io
Twitter Handle: @razfintech
Project lead Contact Email: miriam@roshem.com
Country of Residence: Israel
Part 2
Core Team
Miriam Davidovic
Role: CEO and Co-Founder
LinkedIn: https://www.linkedin.com/in/miriamdavidovic/
Background/Experience: Miriam is the Founder of Roshem Impact, a Certified B Corporation that provides information technology and marketing solutions to companies that are committed to realizing verifiable, positive, social and environmental impact. She leads the development of impact data, verification, certification and impact-financial integration for RAZ Finance. Her leadership expertise spans across the USA, Canada, and Israel as related to impact finance, intellectual property, corporate governance, mergers and acquisitions, due diligence, Environment, Social and Governance policy and practice.
Raphael Bitterman
Role: Co-Founder and VP of Business Development
LinkedIn: https://www.linkedin.com/in/raphaelbitterman/
Background/Experience: Raphael is a licensed attorney in Israel with 20 years of Intellectual Property law experience. He worked across the diamond and jewelry industry for 19 years developing market access opportunities through technology, while driving sales and operating diamond tenders. He manages business development and partnerships at RAZ Finance with a focus on opportunities across the landscape of impact and ESG investing, blockchain, impact tech, agricultural tech, sustainable and regenerative business.
Nemanja Tomanovic
Role: Technology Development Project Manager
LinkedIn: https://www.linkedin.com/in/nemanja-tomanović/
Background/Experience: Nemanja developed the RAZ Finance Network platform and our Proof of Concept. He is an expert at online community management as well as front-end development. He has worked with Roshem Impact since 2019, and has created WordPress-based websites and community platforms for impact-driven initiatives across the e-commerce, advisory and consulting, trading, and sustainable business landscape. At RAZ, he manages priorities, workflows and HR related to the expansion of our in-house team, blockchain integration, data security, tokenization through the Ocean Protocol, while ensuring our team meets and exceeds milestones and KPIs in accordance with investor expectations.
Selena Ivanovic
Role: Director of Communications
LinkedIn: https://www.linkedin.com/in/selenaivanovic/
Background/Experience: Selena has led Roshem Impact since 2020 and managed communications and marketing projects for impact-driven firms and initiatives. She led the team to B Corporation Certification and participated in developing and executing a Workers Impact Business Model that led to the company being recognized in the top 5% of B Corps globally, as part of the 2021 Best for the World list. She led the organization of the Roshem Impact Summit, an online conference that brought together prolific speakers to explore the emergence of a regenerative economy. The RAZ Finance initiative was officially launched in September 2020, and publicized in July 2021. At RAZ, Selena manages stakeholder communications, client service and onboarding, social media, digital and video content development. Selena previously worked for the Novak Djokovic Foundation, where she managed communications strategy and fundraising.
Margaret Mondlane
Role: Environment, Social and Governance Verification Expert
LinkedIn: https://www.linkedin.com/in/margaret-mondlane /
Background/Experience: Margaret has over 20 years experience in environmental, social, governance (ESG), and project management consulting for private, public, and international clients for a multitude of industries.She has been a Benefit Officer and Impact Consultant with Roshem Impact since February 2020. She advises on ESG for clients and Corporate Social Responsibility Reporting and compliance. Her most recent academic achievements include a Certificate in Corporate Social Responsibility from the University of Colorado and Leeds Business School. She has a B.S. degree in Natural Resources Management from Colorado State University and a Master's degree in Environmental Management from the University of Cape Town.
Advisers
Ron Goldschlager | Chairman and Managing Director of the Hermal Group | Founder of Cusp Building Solutions
Full Biography: https://cusp.com.au/team/ron-goldschlager/
Background/Experience: Ron is a problem solver and an investor driving forward the development of the platform and network. He has an innate need and vision to improve the world for its people. His family have worked in the timber industry for more than seven consecutive generations. Ron has diversified his Hermal Group in Australia into the new world economy of sustainability. As timber has risen to the fore as a solution in the fight to tackle climate change, Ron has turned a forest-based raw material being sold as woodchips into the world's first plantation hardwood CLT. Cusp is the realization of Ron's vision to facilitate Australia becoming self-sufficient in timber production and to minimize waste in the timber supply chain. To this end, he is also creating a Bioenergy plant that can generate renewable electricity & heat from the biomass waste of the forest industries. Ron holds an honours degree in Chemical Engineering from Monash University. Cusp Building Solutions is just one of the many successful companies that form part of the Hermal Group, of which Ron is Chairman & Managing Director. These companies include Sullivan's Cove Distillery, Quip$mart, Mortim, CLTP and Cusp, Solarwood International, Hermal Bioenergy & Westernport Marina.
Carolina Almeida Cruz | Founder of CMore | Business and Human Rights Expert
LinkedIn: https://www.linkedin.com/in/carolinamalmeidacruz/
Joshua Boles | CEO of Neo Flow Asset Management
LinkedIn: https://www.linkedin.com/in/joshuanboles/
Background/Experience: As the CEO of New Flow, Joshua leads a multi-disciplinary investment management company focused on Digital Assets, Decentralized Finance, and Web 3.0 blockchain projects. The firm's relationships and blended investment approach have led to early access to the most advanced Digital Asset protocols and next-generation technology. His career history has included being a Senior Investment Advisor, Executive Director, Chief of Staff and Business Development leader working with federal clients and the Department of Defense. He has managed a Single Family Office for 10 years, with approximately 4,000 multifamily units in five US states including a portfolio of investments across the venture capital and private equity space.
Michael Healy
Linkedin: https://www.linkedin.com/in/michaelhealyco/
Michael is co-founder of UNIT and partner at Unit.Ventures, focused on creating meaningful jobs and solving inequity. It connects providers and customers, as well as allows businesses and individuals to issue tokens for specific uses. He is focused on social impact and positive change through education, entrepreneurship and empowering individuals. Michael is a self-taught full-stack web developer and mobile engineer. Michael has built several successful businesses with exits ranging from Chatride, an encrypted peer-to-peer video conferencing technology, Ratemash, once one of the UK's largest student social networks, the Wikileaks Android app and many niche mobile apps used by millions of users worldwide. Alongside starting and growing businesses, Michael has advised and supported startups, investors and corporates in Asia, Europe, Middle East and Latin America.
Part 3: Project Deliverables
Unleash Data
"Impact in Action" and "Decentralized Impact | Finance | Evolved" Data will be made available on the Ocean Market
Are there any mockups or designs to date?
Yes, at https://razfinance.net and https://razfinance.io
Impact Themes customized for Ramprate:
Impact Themes utilized by the RAZ Finance and Roshem Impact teams:
An overview of the technology stack?
The current Proof of Concept platforms utilize WordPress to facilitate community membership functionality, working groups, stakeholder engagement, custom Impact Theme groups and Initiatives that track progress according to specific assessment frameworks.
The company is currently in the capital raising phase to create an MVP platform based on open-source software, NFT standards and the creation of a decentralized impact investment market.
If the project includes community engagement:
Running the campaign on social media for how many weeks? Continuously for the duration of RAZ Platform development - starting at the first year, 56 weeks.
Project Deliverables - Roadmap
Any prior work completed thus far?
RAZFinance.io —>>> Tracks and verifies impact
---->>> Manages capital allocation decisions
---->>> Engages teams and stakeholders to verify outcomes
----->>> Increases the speed and efficiency of due diligence related to accessing or deploying capital
Proof of Concept Product Dive: Where We Are Now
Investors and companies can choose and customize their Impact Themes
The platform records actions taken by stakeholders to realize progress across ESG, sustainability or impact initiatives
Stakeholders engaged in the project can verify outcomes: investors, team members, employees, consultants, partners, suppliers, customers, community members, verification experts and intended beneficiaries
Details on the capital allocated, and deployed, to each action step involved in the realization of an Impact Theme can be provided
Each company that utilizes the platform onboards members from their own stakeholder groups
Datasets are tokenized through OCEAN ERC-20 datatokens and traded through the Ocean Market
The RAZ Network platform has been developed to facilitate active collaboration between companies, investors, consultants and individuals with an interest in the overall impact, ESG and sustainable investing space. The platform offers working groups, resources, and videos while facilitating networking between members. The network further serves to bring together auditors and verifiers that will engage with RAZ Finance data management processes.
What is the project roadmap? That is: what are key milestones, and the target date for each milestone.
January 2022:
5-10 investment funds and 20-30 companies managing data via RAZ Finance
December 2021 - February 2022: $200,000 in capital raised for MVP platform development
March 2022 - June 2022: Platform upgrades from Proof of Concept to Minimum Viable Product completed. MVP launched.
March 2022: "Impact in Action" and "Decentralized Impact | Finance | Evolved" datasets expand to include verified impact-financial data from 5-10 investment funds and 20-30 or more companies by March 2021
Publication of the project's roadmap and value proposition, data management process to
RAZ Finance https://razfinance.io
LinkedIn https://www.linkedin.com/company/razfintech
Medium and international financial media outlets.
Any maintenance? Ongoing platform maintenance and development involves:
User Experience UX/UI design and improvements based on early adopter feedback
Ongoing due diligence and support provided to companies utilizing the platform.
Ongoing work to facilitate investment due diligence through smart contract-based access to data
Impact outcomes are correlated to resulting revenue across the timeline of the project or investment, with the option of integrating data from campaigns that share results with the public and stakeholder groups.
The RAZ process transforms three categories of previously unrelated data into interconnected digital assets that become unalterable and transparent.
Financial and impact reporting become integrated through data science, artificial intelligence and machine learning.
RAZ becomes a secondary market that facilitates due diligence, capital deployment and liquidity across the landscape of ESG, impact and sustainable investing opportunities.
Foreseen or possible additions?
Software Features:
Financial Data Collection
Capital Deployment and Allocation

Revenue
Campaigns
Data publication events and stakeholder engagement campaigns are recorded by date and duration.
Impact Verification
Digital Identifiers

Facilitated by open-source infrastructure: Verifiable Claims (VCs - verifiable credentials) are associated to Decentralized Identifiers (DIDs) - Linked data encoded as JSON-LD

Data is reviewed and verified. Goals and milestones are set to achieve certification and tokenization.

Financial statements are compared to impact data and campaigns.

Campaign data is compared to impact data, public-facing information is reviewed.
Tokenization of verified data
Mapping of the correlation between impact, finance and campaigns over time.

Upon the achievement of specific goals and milestones, data is tokenized to facilitate:
Increased Investment Liquidity
Investment Marketplace Opportunities
Financial Disruption
By tokenizing data
from the onset of investment capital being deployed to impact-driven initiatives

to financial performance and returns
investment due diligence timeframes become more efficient and create opportunities for liquidity events.
$RAZ utility is being designed to enable access to integrated off-chain impact-financial data, assets and securities. The RAZ market aims to facilitate impact investment backed by secure and tokenized data.
Two categories of trading opportunities are being created across the ESG and impact investing space:
Data trading that facilitates risk management and efficient due diligence

Digital securities trading that facilitates increased inflows of capital to verified impact and ESG-driven investment opportunities
The global financial sector is quickly adopting blockchain and decentralized finance technology.
For banks and institutional investors
Utilization of the RAZ dashboard and investment market can:
reduce the cost of verifying outcomes and deploying capital

incentivize companies to substantiate their economic, environmental, social and governance outcomes

facilitate faster and more efficient investment due diligence

build trust by increasing the quality of impact and financial data

decrease the risk and hesitancy associated with impact, ESG and sustainable investment
Additional Information
Any additional information, custom fields, or images you would like to add? For example: Any grants or fundraising to date?
Fundraising
$50,000 USD Capital Investment from an angel investor by means of a Convertible Note.
Grants
$17,600 USD/33208 OCEAN grant from the Ocean Protocol Foundation.
Progress according to initial Ocean grant deliverables:
Grant Deliverable 1
*** Impact, ESG and sustainability datasets traded on the Ocean Market**
Progress update:
Our first early adopter projects: Roshem Impact, a Certified B Corporation,and three companies working towards B Corp certification: Maven Hemp, Shah Hemp,and CMore have consented to making their data available on the Ocean Market.
We expect our first datasets to be published in September 2021, earlier than originally planned for March 2022 and in alignment with the 90-day project timeline.
With regards to product data, Maven Hemp is participating in the groundbreaking Radicle ACES trial for CBD products https://radiclescience.com/resources/radicle-science-spotlight-maven-hemp and data will include publishable results from the scientific study.
The Ocean Protocol logo, introductory details and information about the grant have been added to the RAZ Finance Information Deck: https://razfinance.net/wp-content/uploads/2021/08/RAZ-Finance-Information-Deck-v05-August-2021-COMPLETE-2-1.pdf
Partners Page: https://razfinance.io/partners/
RAZ Finance is awaiting feedback from the Ocean DAO to onboard companies and achieve the following: Cross-promotion of Ocean DAO members actively measuring and managing their impact, sustainability and ESG data.
Grant Deliverable 2
RAZ Network membership revenue generated via OCEAN
Progress Update: The ability to make network membership, impact measurement and management, as well as platform customization and licensing payments via OCEAN was integrated on September 1st 2021
Grant Deliverable 3
Integrated Impact-Financial Datasets Traded on the Ocean Market
Progress Update: Our goal is to trade data from 3-5 investment funds and 8-10 mission driven companies.
Between August 9th and September 1st, we onboarded the following:
Mission-Driven Companies (3): Maven Hemp, Shah Hemp, Ramprate
We are aiming to onboard 1-3 more investment funds, and 3-5 more mission-driven companies within the next 60 days as part of our Round 8 project goals.
For the OCEAN Protocol, RAZ presents an opportunity for $OCEAN utility to be at the forefront of:
Transforming the impact economy by integrating stakeholder-verification with financial performance
The development of a decentralized exchange centered on stakeholder-verified impact-financial data that facilitates transparent investment and liquidity across the ESG, sustainability and impact landscape.
Join us in leading the evolution of impact finance.
Information deck: https://razfinance.net/wp-content/uploads/2021/08/RAZ-Finance-Information-Deck-v05-August-2021-COMPLETE-2-1.pdf