Grant Proposal Template
Key Project Data
Name of project: Unbanks
Team Website (if applicable): www.unbanks.me
Proposal Wallet Address: unbanks.eth
Current country of residence (*mandatory): Ireland
Contact Email (*mandatory) alan@unbanks.me
Twitter Handle:

@unbanks_app

Discord Handle: Alan | Unbanks#2184
The proposal in one sentence: Unbanks is building the first consumer banking data union, users can sell their anonymized banking data (transaction history) and companies can buy access to the consumer transaction data via the data union.
Which category best describes your project? Pick one or more.

Build / improve applications or integrations to Ocean
Unleash data

Funding Amount: Enter the amount of OCEAN your team is requesting (limit 27.200 OCEAN in Round 6): 32,000
Current Remaining Grant Treasury Balance (if previous recipient): N/A
Have you previously received an OceanDAO Grant? No
Project Overview
Description of the project:
The Unbanks platform is the world's first consumer banking data union where users can sell their banking data (transaction history). A users grants Unbanks permission to access their banking data through Open Banking (PSD2) and Unbanks periodically pulls the data from the banks APIs. The data is anonymised and sent to our Data Union. The Data Union will eventually have hundreds of thousands of users providing data to it. Unbanks then sells access to the Data Union data to companies. Once the data is sold the users who provided the data will be paid. Unbanks will take a small admin fee.
What problem is your project solving?
For context we have Users(General public) and Customers(Companies who will buy the data).
Users: They are creating banking data and not getting paid for it. Their data is being sold for profit by banks/card companies. We are creating a solution that will allow anyone to link their bank account and get paid for sending their banking data to the Unbanks Data Union.
Customer: Currently they buy large static files of banking transactions data from a single source, the data generally comes with high latency.
This data is siloed by company, for example a person might have a Main bank account with a Mastercard debit card, a Visa credit card and use a Neo bank. This person's data could appear in 4 separate files (from Main bank, Visa, Mastercard and Neo bank), currently companies buying data this way would have to assume that is 4 different people as there is no way to cross reference other companies data.
This leads to inaccurate data. While the data from each source is accurate, the more sources introduced the less accurate the whole of the data becomes. This inaccuracy coupled with the general high latency (the data can be weeks/months old by the time its consumed) leads to inaccurate and stale insights from the data.
Unbanks will offer real time anonymized consumer banking transaction data at the user level. Unified user level user banking data including bank account transactions from traditional banks, neo banks and card spending across credit/debit cards.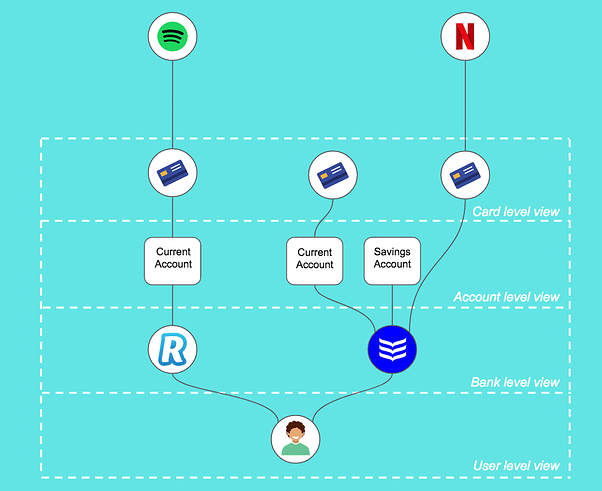 The above image shows the different levels of banking data. Currently data is only available from the Bank or Card level. As we are building a user lead opt-in Data Union the user can share all of their accounts with Unbanks. This leads to Unbanks being able to provide a User level view of data. A benefit of this (as shown in the image above) is that if this user paid for Netflix from their main bank account and Spotify from their Neo bank the only way you could tell that is the same person is with data at a User level. Unbanks will be the only solution that could offer this.
From our extensive customer research we have found this improved latency and accuracy beneficial for the following types of investment firms; Fundamental, Quant, Private Equity, Venture Capital.
Our data sets also can be used in the retail sector to show trends to inform investment decisions or to understand consumer behavior over a larger set of consumers. This is possible because we can access the "truth" of transaction data across all of a users accounts (Traditional banks, Neo Banks, Credit and Debit cards) and provide insight into Millennial, Gen Z, and the Underbanked segments that are missing in other transaction data sets.
What is the final product (e.g. App, URL, Medium, etc)?
iOS app, Android app, Web app
How does this project drive value to the Ocean ecosystem? This is best expressed as Expected ROI, details here.

Primary Metric: "$ Datatoken Consuming Volume".

Secondary Metric: "Total Value Locked".

Project length: 6 month.

The price of our data set on datarade is $332,500/year (https://datarade.ai/data-products/real-time-eu-consumer-transaction-data-de-identified-pay-as-you-go-option-available-unbanks), at the time of writing ($OCEAN ~ $.054) this equates to 615,740 $OCEAN/year. We have 13 companies who have contacted us and expressed interest in purchasing the data at that yearly price. We think we can increase this to 30 companies in the next 6 months.

Each buyer (30) does 615,740 $OCEAN/year of consume volume on Ocean Market. This is a total of 18,472,200 $OCEAN / year consume volume.

It's a recurring volume for future months.

We also think that the companies buying the data (large investment companies) will be inclined to keep an extra 10% $OCEAN in reserve to potentially purchase other datasets from the market place. 30*(10% of the price of Unbanks product 615740 $OCEAN) = 1,847,220 $OCEAN TVL.

Calculations for Expected ROI:

Ocean Community gets 0.2% of consume volume. 0.2% * 18,472,200 = approx 37K OCEAN

So bang = 37,000 + 1,847,220 = 1,884,220 $OCEAN.

Grant size = buck = 32K OCEAN

So ROI = bang / buck = 1,884,220 OCEAN / 32,000 OCEAN = 58

Proposer's estimate of % chance of success = 70%

Final: expected ROI = 0.70 * 58 = 40.6
Project Deliverables - Category
IF: Build / improve applications or integration to Ocean, then:
App will be live, at: unbanks.me, App Store and Google Play Store.
Is your software open-source? Project can be found (with permissive license if necessary) at: Not open source currently, private repo at github.com/alanmdonald
IF: Unleash data , then:
Data will be made available on Ocean Market and Streamr Marketplace
Project Deliverables - Roadmap
Any prior work completed thus far? Yes pilot for first 50 users to be launched June 2021 and will be launched on unbanks.me (currently we have a placeholder site here for sign ups)
What is the project roadmap? That is: what are key milestones, and the target date for each milestone.
Nov 2020 - Jan 2021: Initial platform development
Feb 2021 - March 2021: Initial customer outreach and research
Feb 2021 - May 2021: Platform re architected on serverless tech
March 2021: Completed accelerator in Carlow Institute of Technology and received initial grant from streamr data fund.
May 2021: Resiliency and data anonymity testing
June 2021: Data Union published on streamr marketplace
June 2021 - September 2021: UK Pilot runs
June 2021 - September 2021: Customer acquisition focus
July 2021 - August 2012: Content creation for socials focus, explainers video, articles etc.
September 2021: Implement pilot learnings and further dev
October 2021: Version 1.1 released as web app, expanding to Germany, Ireland, Spain, Italy, France and Poland.
Dec 2021: iOS and Android apps released.
Please include the milestone:
Article published last week in conjunction with deploying the data union: https://medium.com/unbanks/why-would-anyone-ever-sell-their-banking-data-df3a14fb6cf7
Please include the team's future plans and intentions.
We plan to be fully launched with iOS and Android apps by Dec 2021. Once up and running and selling data we will be building out a data analytics platform as part of the Unbanks offering. This will allow us to sell insights on the data as well as the data. In this situation "Unbanks Insights" will still be a customer of Unbanks buying the data as any other company would.
Initially we see the data Unbanks provides being bought by Investment companies, hedge funds, banks and market research companies. As we progress we see a big opportunity in the defi space, incorporating crypto accounts/holding/transactions into the overall datasets.
Initially users of the Unbanks platform will be individual users. Further into the future we are looking at the Small and Medium sized enterprises (SMEs) onboarding to the platform. We see huge potential in a data union/data set of all SMEs in a city in real time. This could plug back into our platform and the "individual users" data union and the SMEs data union would be very complementary to each, offering deals and exposure which benefits each.
Project Details
If the project includes software:
Are there any mockups or designs to date? Yes, mock app currently lives here (https://main.d2c9qv2nt723rk.amplifyapp.com), still under construction, feel free to mess around, its connected to sandbox banking data currently.

An overview of the technology stack?
The platform is predominantly built on a serverless architecture. We use AWS Amplify, Cognito, Lambda, DynamoDB for serverless. S3 stores the anonymised data and we use SES for notifications.
For the Data Union we are using the Streamr Data Union solution and their decentralized Pub/Sub network. The Data Union is live on the Streamr marketplace as we set up for the UK pilot. We push data streams to the data union using their nodeJS SDK.
Team members
For each team member, give their name, role and background such as the following.
Alan McDonald
Role: Developer + Customer growth
Relevant Credentials (e.g.):
Background/Experience:

Engineer at JPMorgan (cloud and open banking)
Engineer at AWS (ec2 linux)
Product Designer Love & Robots - a 3d printing start up (JS dev and designer)
Technical Lighting Engineer for 5 years previous
Gerard McDonald
Role: Developer + User growth
Relevant Credentials (e.g.):
Background/Experience:

Senior Telecom Engineer at Dell Technologies
Senior Pre Sales Engineer at VMWare
Engineer/Technical Support at Airwatch
Additional Information
Any additional information, custom fields, or images you would like to add? For example: Any grants or fundraising to date?
$5k grant from Streamr data fund, received in March 2021.