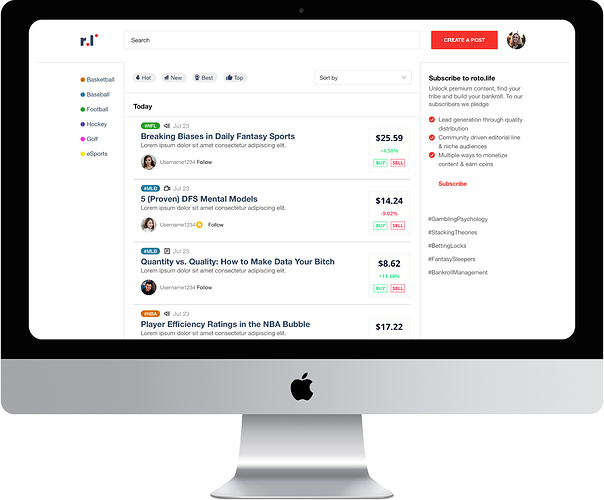 Key Project Data
roto.life
Team Website: https://roto.life/
Proposal Wallet Address: 0x4B46AA204A9f39e35C62cb7b14Bccc282972bb25
Current Country of Residence: United States
Contact Email: bgebavi@gmail.com
Proposal in one sentence: A social hub built around the production, consumption and sharing of data and other forms of content in sports betting/daily fantasy sports.
Category: Build/Improve applications on integrations to Ocean
Project Overview
Description of the project: Create a marketplace of content creators using datatokens. The current perceived usefulness of the information provided by any given creator will be determined by the price of their datatoken. It's no longer a secret how important data is to professional sports. Every single team and front office uses it to make decisions about their personnel and now as fans turn into GMs through daily fantasy - they rely on it just as heavily.
What problem is your project solving? The advertising model has created a hostile environment filled with touting to gain your attention and sell it. Current platforms silo customer data and control it's flow. roto.life eliminates the middle man as the central authority providing credibility. It makes quality a requirement to popularity instead of an obstacle to it.
What is the final product (e.g. App, URL, Medium, etc)? App
How does this project drive value to the Ocean ecosystem? This is best expressed as Expected ROI, details here.
It's called Daily Fantasy Sports for a reason, because users come back every single day to play - so whether it be in-game data, pre-game projections or an article detailing the game theory of constructing a lineup - the data is being accessed daily. Right now on our MVP we only have two creators who are producing content, both in the form of written articles and player projections based on statistical models (compute-to-data). Below is a snapshot of our Google Analytics for the month of April. I want to focus specifically on the NBA and MLB projections pages and treat each of those Pageviews like someone accessing a datatoken on Ocean.
Between the two of them there were 2,072 total throughout the month. Let's say each access costs 1 $OCEAN. That makes the $OCEAN Datatoken Consuming Volume above 2k per month which would pay back the grant within the first five months. And that's only with two current creators, imagine when there are 100. For that reason we estimate this project to have a high chance of success. Rather than fill these numbers into an expected ROI equation with arbitrary numbers I instead just want them to speak for themselves. There are real people who are accessing our product every day, we just need to create the market now.
Project Deliverables - Roadmap
Any prior work completed thus far?
Our current MVP is a site where two different creators post content. We have an active Discord chat of over 1000 returning users who talk shop.
What is the project roadmap? That is: what are key milestones, and the target date for each milestone.
If we are selected for the grant it will strictly be used for software development and implementation of the Ocean protocol into our current MVP. We're also looking for outside funding so the plan would be to then use those new funds for the full development of the app and grander market economy. We plan to hit the ground running so if we do receive the grant we want users to be able to start using datatokens on roto.life by June 1.
Please include the milestone: publish an article/tutorial explaining your project as part of the grant (eg medium, etc). https://roto.life/a-positive-sum-game/
Project Details
Are there any mockups or designs to date?
Team Members
For each team member, give their name, role and background such as the following.
Chas Goudie
Role: Co-founder, CEO
LinkedIn: https://www.linkedin.com/in/chasgoudie
Homepage: http://chasgoudie.com/
Background/Experience:
Product Manager at prism.coach
Digital Specialist at Chicago Sun-Times
Co-founder and Chief Digital Officer at THE SIX THIRTY
Braden Gebavi
Role: Co-founder, CFO
LinkedIn: https://www.linkedin.com/in/braden-gebavi-72100015b/
Upwork: https://www.upwork.com/freelancers/~01474e38e1fb7f5311
Digital Consultant at Upwork
Analyst at Iris Concise
Master Data Analyst at Reynold's Consumer Products
Paul Wenzel (BathrobeDFS)
Role: Co-founder, Head of Content
Reddit: https://www.reddit.com/user/bathrobeDFS/
Twitter: https://twitter.com/bathrobeDFS