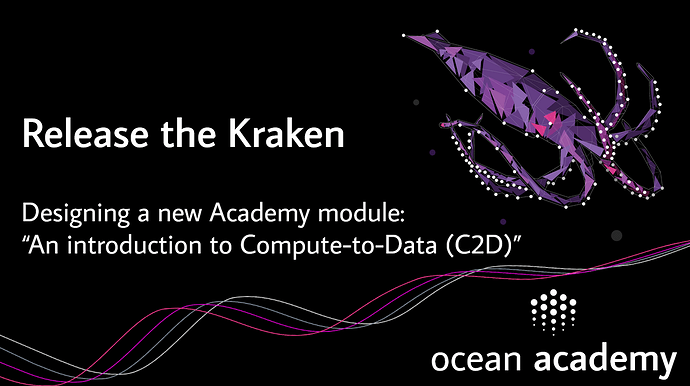 Key Project Data
Name of project
Project Kraken

Website
https://oceanacademy.io
Proposal Wallet Address
0x5cFDBd9150596b790AAe28e003EFfac9f29081F9
The proposal in one sentence
With project Kraken, Ocean Academy aims to deliver a new educational module: "An introduction to "Compute-to-Data (C2D)".
Project Category
⌧ Outreach & growth
⌧ Unleash data
Project Overview
Background
Ocean Academy is a community initiative started by Ocean Ambassadors. Its goal is to lower the intellectual barriers required to grasp Ocean Protocol's mental models and technology.
Many people, including data owners, decision-makers, developers, and data scientists, are not familiar with blockchain and smart contracts yet. Web3 solutions are foreign to both developers and the general public; hence we aim to reach the broadest audience possible rather than solely catering to Web3 natives.
Ocean 101 was launched in October 2020. Recently, it was complemented by our introduction to "Data DeFi". The results are extremely encouraging. We recorded 461 sign-ups to OceanAcademy, from which 190 participants completed all 23 chapters of Ocean 101 and were given a certificate, an entrance ticket to become an Ocean Ambassador. Compared to the average rate of regular online learning services, our conversion rate of over 40% is above most online courses.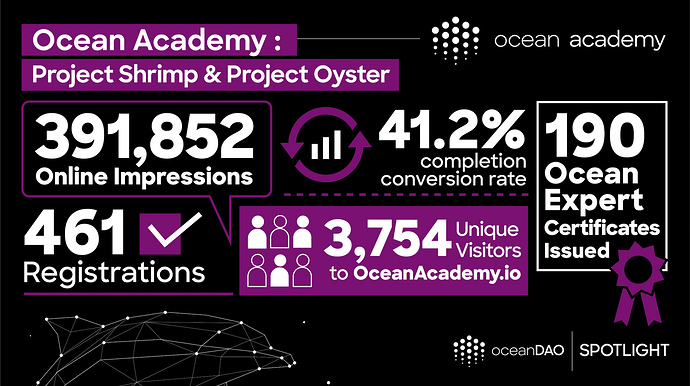 The coursework has been effective as an outreach medium, and the site has delivered beyond expectation on enrollment and certification. Ocean Academy has brought in numerous new Ocean Ambassador candidates as well as contributors to the Academy. The team has grown to 12 contributors, stirring innovation and a drive for further development.
Community feedback has been very positive. And the feedback made it clear that Ocean Academy doesn't have to only teach technical skills, but can serve as an effective outreach platform for Ocean Protocol. Ocean Academy has all it takes to educate people about Ocean Protocol and its broader impact, and push the message out of the Web3 boundaries to generate healthy growth.
Problem & Opportunity
Many Web3 projects view their target market as 'crypto natives' and fail to reach the broader market they aim to serve. Ocean Protocol is no different; we estimate that >95% of its future user base is not familiar with Web3. The community will have to deploy tremendous efforts to gain traction and adoption by existing data owners and AI scientists.
Network effects can start with the Web3 community, and they must be designed to serve the wider market to compete in a space at the intersection of data, AI, and blockchain that is becoming increasingly competitive. The higher the initial growth of active participants, the better. This is where an education platform fills the gap.
Our Mission
Our vision is to establish Ocean Academy as a catalyst for adoption and growth for Ocean Protocol.
We want to build Ocean Academy as a platform for outreach, onboarding and skill-building for Ocean Protocol. Namely, it will serve the following purposes:
Support the Ocean Protocol ecosystem
Onboard selected communities to Ocean Protocol
Further the outreach of Ocean Protocol
Increase overall understanding and expertise in Ocean Protocol
Stir ecosystem engagement
We want to make the Ocean Academy a central piece for onboarding users, builders, ambassadors, and all other community members with Ocean Protocol through:
Integrative experience for new Supporters and Ambassadors of Ocean Protocol
Increased collaboration between all people who have a certificate willing to contribute
Promoting best-practices throughout the Ocean Community
We want to set Ocean Protocol on a path to a flourishing ecosystem at the center of the decentralized data economy.
Project details
Building on our comprehensive education platform designed to act as a catalyst for the adoption and growth of Ocean Protocol, project Kraken delivers a new educational module on Compute-to-Data (C2D). It aims to lower the barriers for data owners and data service providers to monetize private data while ensuring data ownership, control and GDPR compliance. With project Kraken we pursue the goal to explain and promote C2D, Ocean Protocol's foremost advantage and a prerequisite for large-scale enterprise adoption. The project entails the following components:
1. A new module: "Introduction to Compute-to-Data (C2D)"
The module gives an extensive introduction to Compute-to-Data. The technology allows for privacy-preserving data sharing and is a core feature of Ocean Protocol. The idea behind Compute-to-Data is to keep data on-premise and to allow data consumers to run remote compute jobs on the data. Data owners keep full control as the data never leaves their location. This is especially suitable to extract value from private data, such as training machine learning models and algorithms or doing Business Analytics across many data sets of different data providers. All of this can be done while ensuring compliance with privacy regulations.
We believe that C2D will have a massive impact on ecosystem growth and on the availability of quality data on the Ocean Market. The technology solves the urgent problem of GDPR compliant data sharing and has the potential to unlock a large-scale data economy across almost all verticals and industries. Compute-to-Data is scheduled to launch on Ocean Market in Q1 2021 according to the Ocean Protocol roadmap, so we believe the time is right to incorporate an educational C2D course into our curriculum.
We plan to explicitly target enterprise users and the data science and AI research community. The content will be tailored to fit the needs of market participants.
Content
Cover the necessity and benefit of C2D in general. What problem does it solve?
Explain how Ocean Protocol with C2D differs compared to other data sharing solutions.
Explain the C2D functionality and how it eliminates the risk of data sharing from a technical and regulatory (GDPR) point of view.
Explain how C2D can be leveraged to unlock and monetize data.
Provide a brief overview how C2D can be used to retrieve value from data, for example, through (federated) machine learning, (federated) business analytics, and other forms of remote data aggregation
Provide an overview of how to set up C2D as a data provider
Cover the economic effects and the potential for your enterprise, startup, and research institute, as well as for your work as a data/AI scientist or researcher.
The "Introduction to Compute-to-Data" lays the foundation for a future more practical and implementation-oriented C2D course, which is planned as a follow-up once C2D is available on Ocean Market.
Users
We aim to spread awareness, provide knowledge and demonstrate the possibilities of C2D and envision this module to be used by the following parties:
Enterprise market participants, such as business and data owners, decision-makers, compliance & privacy officers and IT architects in companies and organizations of all sizes, across geographies and verticals.
Startups. They often aim for large quantities of data but currently have no possibility to access valuable data at scale. Here we aim to stimulate data demand on Ocean Protocol-based data marketplaces.
Data scientists, AI researchers, and developers. C2D is expected to increase the amount of data being shared on Ocean Protocol, and as many developments in AI are dependent on data availability, C2D will stimulate demand for data on Ocean Protocol-based data marketplaces.
The Ocean Community. We want to continue delivering educational content for the Community regardless of their profile. This module will primarily focus on professional data providers and consumers, but we want to make sure it is appealing to the broadest audience possible, including Web3 natives and crypto enthusiasts.
We want module graduates to be able to assess if and how they can leverage Ocean Protocol and C2D in their enterprise, startup, research project, or institute.
2. Active marketing
We plan to extend our successful awareness campaign for Ocean Protocol / Ocean Academy through Twitter and Google ads. We aim to target potential C2D users, with a focus on the data supply side, including data owners, decision-makers, data/AI scientists and researchers.
Deliverables
A new module "Introduction to Compute-to-Data" as part of the Ocean Academy curriculum, which will serve as a foundation for a future practical C2D tutorial. Delivery is scheduled for the end of March '21, but may be delayed if need be (i.e. following the deployment of C2D on mainnet by Ocean Protocol Foundation).
The extension of the marketing campaign targeting data owners, decision-makers and potential publishers of data services.
KPI Targets
By End-June 2021
Unique visits to Ocean Academy: 12'000
Module completion 2'000
Retain high conversions rates (enrollment, completion)
Expected short term ROI
Module graduates: 2'000
Graduates who will publish data on Ocean Protocol thanks to the module: 1%
Expected amount of $OCEAN locked per C2D liquidity pool: 200k
Total Value Locked: 2'000 * 1% * 200k = 4M
Likelihood of success: 75%
Bang: 4M * 75% = 3M
Bucks = 10K $OCEAN
ROI = 3'000'000 / 10'000 = 300
Ongoing
Significant growth of Ocean Protocol Ambassadors
Significant growth of Ocean Protocol Community:

Data publishers and consumers
Data curators
Project supporters
Developers
Investors
Outlook
As soon as C2D is live and usable on the Ocean Market, we plan to work on another C2D module that builds on top of the "Introduction to Compute-to-Data (C2D)": We envision a practical module, directed towards builders and engineers, on how to set up your own C2D environment. We envision a step-by-step tutorial on how to set up your own C2D environment on a local machine or cloud service. Delivering that module right now is not possible due to C2D not being released yet. However, the impact of its release motivates the preparation, and we commit to release more quality educational content about C2D as soon as possible.
Team
Ocean Academy is built by a distributed team scattered across all continents, with a diverse set of experience and expertise. Talent in the team is considerable and each member is actively contributing with her/his own skills; all of which blend into our secret sauce.
Processes were put into action to enable agile development at scale while ensuring maximum quality in deliverables.
Meet the Crew
Our Values
Content Quality. Content should be easy to understand, always correct and updated accordingly.
Inclusiveness. We provide public chats and documentation to onboard new contributors and welcome everyone who wants to improve their skills while helping a real-world project.
User experience. We understand that an engaging experience helps to better grasp abstract and new concepts. We are not just another written tutorial but an interactive learning platform.
Transparency. All our groups, code and planning are public and open source.