Key Project Data
Name of project: DFR – Decentralized File Rating by @Oceancap
Proposal Wallet Address (*mandatory): 0x31A7f70b8812daEf0A6C7F19575DB09f726F0DD1
The proposal in one sentence: Oceancap is aiming towards a decentralized file rating mechanism on the official Ocean Market.
Which category best describes your project? Pick one or more.

Build / improve applications or integrations to Ocean

Build / improve core Ocean software
Project Overview
Description of the project: With our DFR solution we are aiming towards a mechanism where users are able to give a file rating after they have bought it. Later on we are integrating the DFR into our Oceancap solution. Users will be able to compare all the existing datapools additionally by the file rating score.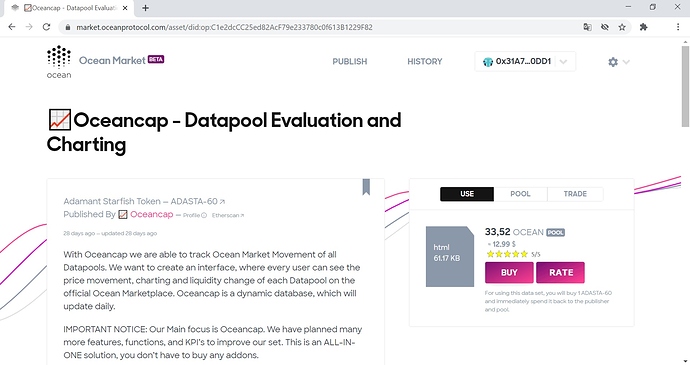 Decentralized File Rating integrated into the Ocean Market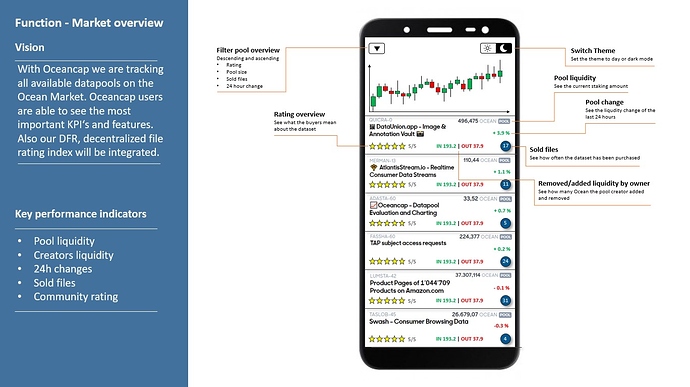 Oceancap App with integrated data file rating
What problem is your project solving? So far users are not able to estimate the quality of a dataset on the Ocean Market. With DFR, users are able to give a data file rating after they have bought it. Other users will than be able to see the data file rating. This will bring a lof ot value to the Ocean Market since users are encouraged to buy good datasets. Bad actors and malicious datasets will also be easier to track.
What is the final product (e.g. App, URL, Medium, etc)? Our final product is an integrated tool into the official Ocean Market.

How does this project drive value to the Ocean ecosystem?
-ensure data quality
-build trust for data pools
-attract more Ocean Market Users
-more transaction volume
-less scam
-more transparency
Project Deliverables - Category
IF: Build / improve applications or integration to Ocean, then:
IF: Build / improve Ocean core software, then:
A PR will be made to these Ocean components: Ocean Market Core Software
I commit to working with Ocean core developers to merging the PR
Project Deliverables - Roadmap
What is the project roadmap?
Phase A: 12/20–03/21
-finish DFR concept -add data file rating category's
-work closely with community to implement new ideas
-implement "files sold" into the Ocean Core Software
-integrate DFR into the official Ocean Market
Phase B: 03/21–06/21
-integrate the DFR rating score into Oceancap
-Oceancap app development
Project Details
If the project includes community engagement:
Running the campaign on social media to collect ideas for rating category's
Collect feedback for DFR mechanisms and Oceancap integrations
Team members
For each team member, give their name, role and background such as the following.
Benjamin
Role: Oceancap CEO
Background: PhD Business Management, Blockchain Entrepreneur
Matthias
Role: Oceancap CTO
Background: Developer