Key Project Data
Name of project
deltaDAO - Creating an Ocean Protocol use case and pitch deck library.
The proposal in one sentence
Creating an open use case and pitch deck library to be used for outreach, awareness and early onboarding into the Ocean ecosystem.
Website
https://delta-dao.com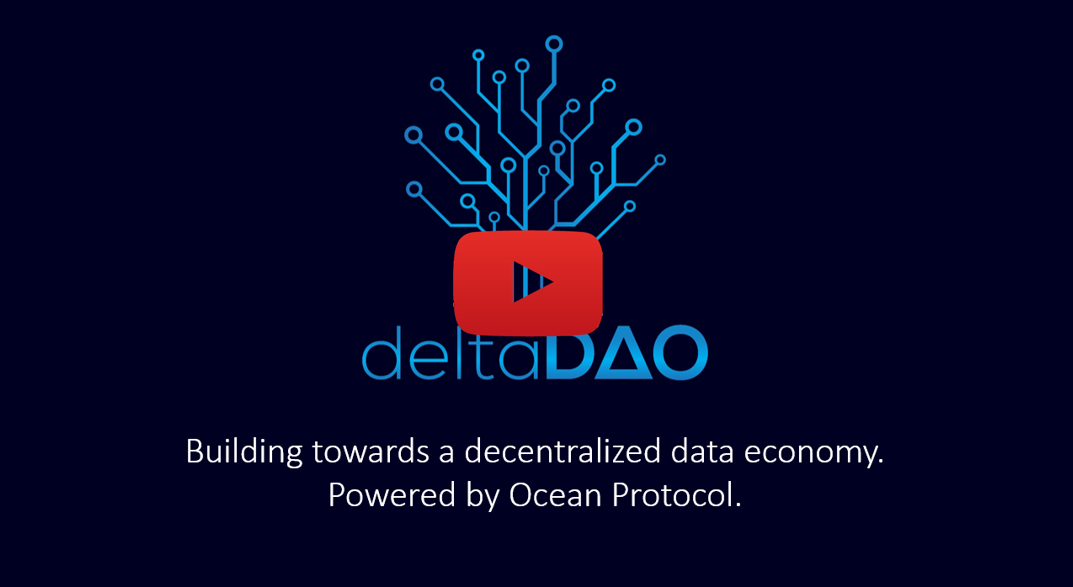 Proposal Wallet Address
0x2da922CBeB06c377741a51dDc85c735429Bc2965
Current country of residence
Germany
Contact Email
contact@delta-dao.com
Project Category


Outreach / community / spread awareness
Project Overview
Description of Project
"Ocean Use Cases" aims to find and document Ocean Protocol use cases with regard to real-world examples and collect them in an open-source deck to be used for outreach, awareness, lobbying and early onboarding. Each use case gets
a short executive summary
a more detailed description on a slightly technical level
a pitch deck in form of a few slides
What problem is your project solving?
While building towards a decentralized data economy powered by Ocean Protocol, we recognized the need for a use case library, dedicated to business/data owners, decision-makers, policymakers and regulators.
Oceans core values resonate well within the AI and Digital Single Market strategy proposed by the European Commission, the Gaia-X initiative and European privacy regulation. However, in practice, we came across a variety of hurdles that are caused by a lack of awareness and understanding of potential real-world applications and their respective impact.
Potential use cases we'd like to include are:
a decentralized data economy (i.e. part of Gaia-X)
data marketplaces
token-based access control
data unions
privacy-preserving data sharing
compliant data monetization
data sovereignty
compute-to-data for federated business analytics
compute-to-data for federated ML
data audit trails, auditability
(AI) explainability
decentralized AI
censorship-resistant data sharing
cooperation of private and public actors
cooperation of for-profit and non-profit actors
new approaches to open science and open data
active participation of citizens in the global data economy
…. other use cases the community thinks of …
What is the final product?
The final product will be an open-sourced deck that contains the compilation of use cases.
Furthermore we will forward the final product to the German Blockchain Association "Bundesblock" to be included in a new working group "data economy" and the communication with members of the community and policy makers.
The final product can also be used in discussions with other business associations in Germany and in communication with Gaia-X / AISBL as part of an European vision.
How does this project drive value to the Ocean ecosystem?
Our deck will be helpful to
reach out to policymakers and political parties
present useful use cases to regulators and financial authorities
demonstrate the need for a friendly (datatoken-)regulation
reach out to enterprises, business associations and research institutions to support the adoption at scale
illustrate the coming transformation towards data-driven Web3 business models
explain the concepts and advantages of privacy-preserving data marketplaces, data unions and economies based on Ocean Protocol
explain how to sell latent but valuable data while keeping ownership and full control
show how Ocean Protocol is able to drive change towards privacy and data sovereignty while still being able to monetize data
target decision-makers and data owners to support the adoption
provide useful content for the Ocean Community and social media channels. The use cases can be shared by us and various community members to create additional awareness centered around use cases
Who is deltaDAO?
deltaDAO is the first "Ocean Protocol" engineering, integration and consulting company, created, built, led, operated and owned by Ocean Protocol community members and supporters.
Our vision is to unite privacy-preserving technology, data economy pioneers and Web3 enthusiasts with diverse skill sets in a company that covers the full "Ocean Protocol" stack and expertise needed to offer professional enterprise integrations.
With deltaDAO, we bundle expert knowledge in software and Web3 development, IT infrastructure and operations, GDPR compliance, IT risk management, artificial intelligence and machine learning, law, finance and outreach in a single company.
Our mission is to build towards a European data economy powered by "Ocean Protocol". Open source, decentralized, GDPR-compliant and following in accordance with European values. We want to bring "Ocean Protocol" to German enterprises, research institutions and non-profit organizations.
We design, develop and integrate professional enterprise solutions, such as:
Data marketplaces

Compute-to-Data" infrastructures

Data pipelines

Custom solutions that scale
With a strong commitment to open source and the Ocean community, our goal is to create the most sustainable, user-oriented and robust solutions in the Ocean ecosystem.
We are committed to contribute a fair share of our resources to beneficial projects that help tackle important problems in society, science, research, education, medicine, and similar. Our intention is to support the "Ocean" values and to do our part to enhance open access, open science, data sovereignty, equality and AI explainability. We commit to rolling out Ocean Protocol technology for the common good whenever feasible.
Project deliverables
Category
Outreach/growth:
The results will be in form of a modular presentation that collects the various use cases
The results will be shared with the community
The results will be shared with associations and policymakers
The results be shared in an open deck in which all community members can cooperate and build from to do outreach and create their own businesses or projects
Roadmap
This task is to be completed within a two months time frame until end of June
Partial results will be discussed with the German Blockchain Association in a rolling review process through the working group
ROI
While this is not directly aimed at new publishers we expect this to be a valuable contribution to growth and regulatory clarity & policy makers approval will be crucial to the long-term success of the Ocean Protocol stack. This also helps to create awareness and to attract new members to the community.
We assume that a Publishers Total Value Locked (TVL) is about 30.000 $Ocean * 50 Publishers = 1.500.000 $Ocean
An average high quality data pool can be estimated to have at least at TVL of 100.000 $Ocean over a year. To calculate this for 50 publishers we assume three pools per publisher.
Pools Total Value Locked (TVL) about 300.000 $Ocean * 50 Publishers = 15.000.000 $Ocean
Trade volume will generate network revenue. While it is difficult to predict the total usage over a year we add another 500.000 on network revenue over the course of a year.
Bang: 1.500.000 $Ocean + 15.000.000 $Ocean + 500.000 $Ocean = 17.000.000 $Ocean
Buck: 7.500 $Ocean
Chance of Success: 70% (yes, we are very optimistic on the future data economy in the EU & Germany)
Roughly estimated ROI over a year: (17.000.000 / 7.500) * 0,7 = 1586,67
Team
Frederic Schwill (Tech Lead, Ocean Ambassador, Member of Ocean Academy, Member of DataUnion.app, Linkedin)

Moritz Kirstein (Full-Stack Developer, Linkedin)

Kai Meinke (Outreach Manager, Ocean Ambassador, Member of Ocean Academy, Linkedin)

Albert Peci (Web3 Developer, Ocean Tech Ship Lead, Founder of Ocean Academy, Linkedin )

Meike Molitor (Risk and Compliance Manager, Linkedin)

Jeannine Meyer (Project Manager, Member of Ocean Academy, Linkedin )

Tobias Manthey (AI/ML Expert, CEO & founder Evotegra, Regional Manager German AI Association, Linkedin)

Thomas (IT-Security Engineer)

Robin Lehmann (ML + Web3 Strategist, AI Program Manager, Founder of DataUnion.app, Member of Ocean Academy, Ocean Ambassador program manager, Linkedin)

Alexander Eger (IT Engineer, Linkedin)

Florian (Cloud Engineer)