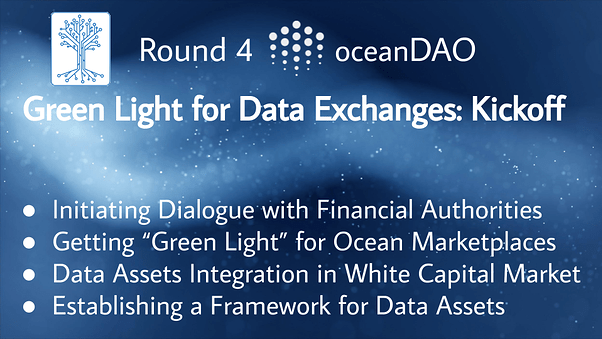 Name of Project
Green Light for Data Exchanges: Kickoff
Description
A well defined legal framework for the operation of data markets is a prerequisite to their wide scale adoption, i.e. enterprises and research institutions. Data Exchanges with financial transactions and the emission of data backed assets are likely to fall under the scope of the financial supervision authorities as "fractional securities". The ultimate goal of this proposal is to establish a distinct legal framework on how to operate data markets. Good news: Some prerequisites have already been fulfilled (see below).
What is the problem solved?
The legal framework would provide the foundation for the operation of data markets and hence provide legal security to all potential operators of data markets. Solving this challenge will act as an accelerator in the adoption of new data markets across Europe and all over the world.
The European financial market has been harmonized in the past years. Therefore the approval by the financial authorities in one EU country gives financial products and solutions access to the EU digital single market as a whole. Having one of the most stringent regulatory requirements in the world, solving the challenge within Germany and the EU can act as a blueprint for other national legal frameworks.
What is the final product/result
The ultimate result of our proposal is a legal framework consisting of legal guidelines but also tools required to operate data markets in accordance with EU regulation.
As a first step we will get in touch with the BAFIN and if necessary other authorities to validate and document the legal requirements to operate a decentralized data exchange within the EU.
Related Initiatives
The German financial authorities, i.e. "BaFin" already approved tokenized bonds and other assets in Germany. The Federal Ministry of Finance and the Federal Ministry of Justice and Consumer Protection have jointly published a key-issues paper discussing the possible introduction of electronic securities and the regulation of public offers of certain crypto tokens. The paper forms part of efforts to strengthen Germany's role as one of the world's leading digital technology and fintech locations. The BaFin, the agency enforcing financial regulation in Germany stated in October 2020 "Blockchain technology: Of course, technological progress and the rise in digitalisation play an increasingly important role in global capital markets, too. Blockchain technology can be used both as an underlying technology for services and as a means of payment. It can therefore be assumed that blockchain applications will be key drivers of digital transformation. In order for this technology to reach its full potential in the EU, trust is needed. Only a robust legal framework can guarantee this. Firstly, it must not stifle but must promote innovation. Secondly, it must have a protective effect on two fronts: protecting both financial stability and investors.
Electronic securities: In August, the Federal Ministry of Finance published a draft law on the introduction of electronic securities. This can also provide fruitful ideas for the Capital Markets Union. Electronic securities allow companies to gain fast and low-cost access to the capital market, which is likely to be very attractive, especially for SMEs. Investors – including retail investors – have a wide range of products to choose from and can invest at a low cost and on a small scale – and thus diversify their risks."
This means that a lot of ground has already been covered and this is about getting "green lights" for the specific implementation of "tokenized data access rights", which is very much in line with the EU and German data strategies. The German Government just recently published Data Strategy of the German Federal Government which explicitly supports "the exchange with business associations and supervisory authorities for data protection compliant AI and blockchain solutions." This follow the EU data strategy in line and is also backed by the German Blockchain Strategy and the EU Blockchain Strategy.
How does this project drive value to the Ocean ecosystem?
By shifting decentralized data markets from the grey market to the white capital market our proposal constitutes a paradigm change. This will not just help to gain public trust in decentralized trading platforms, it will also act as a lighthouse project for the integration of decentralized platforms with the classic financial regulators. This will enable data markets based on Ocean Protocol to be fully embraced by the European Gaia-X initiative that aims to create a digital single market in Europe.
Legal Background
"Germany's implementation of this blockchain strategy during 2020, in addition its implementation of the European Union's 4th Anti-Money Laundering Directive, has had far-reaching consequences for blockchain startups, fintech firms, banks, crypto exchanges and industrial companies. As of Jan. 1, 2020, the custody of crypto assets — and thus, also their trading — requires a license from the nation's Federal Financial Supervisory Authority, known as BaFin. This license applies to all companies that hold or trade crypto assets such as Bitcoin (BTC) and Ether (ETH), from crypto custody providers to crypto exchanges. Thus, from 2020 onward, the handling of crypto assets in Germany is subject to high regulatory requirements and standards that have already been in place for decades in traditional capital markets.
One of the most important regulatory measures in 2020 was the law on the issuance of electronic securities, which was passed by the Federal Cabinet in December. According to this law, securities can also be issued purely electronically in Germany in the future.
This feature should be implemented in the Ocean Marketplace to make the issuance of electronic securities and associated paperwork as easy as possible to all publishers.
Another important step in the direction of regulation was when the European Commission presented legislative proposals on crypto securities in September 2020. Its Regulation on Markets in Crypto Assets, known as MiCA, is expected to come into force in 2022 and create legal clarity and certainty for issuers and providers of crypto assets throughout the European Union."
Proposal Wallet Address
0x01e66950353400E93AEe7F041C0303103E2ef5Ab (Databrokers)
0x61B15998893cC746B46C08FEdEE13a0d1b33bBa9 (Evotegra)
The grant will be shared 50/50.
ROI
Once the Ocean Marketplace moves to the "white capital market" a great influx of investors and publishers can be expected across Europe but also worldwide. As this process might take several months, the process should be started now.
We assume that a Publishers Total Value Locked (TVL) is about 30.000 * 100 Publishers = 3.000.000
An average high quality data pool can be estimated to have at least at TVL of 100.000 $Ocean over a year. To calculate this for 100 publishers we assume three pools per publisher.
Pools Total Value Locked (TVL) about 300.000 * 100 Publishers = 30.000.000
Trade volume will generate network revenue. While it is difficult to predict the total usage over a year we add another 1.500.000 on network revenue over the course of a year.
Bang: 3.000.000 + 30.000.000 + 1.500.000 = 34.500.000
Buck: 6.000 (+ following DAO funding rounds until end of year)
Chance of Success: 70% (something will be decided by BaFin, but it might take some months and patience, so this might weaken the bang in the short run)
Roughly estimated ROI over a year: 3450 * 0,7 = 2415
The Team
Kai Meinke
Tobias Manthey
Articles and Links:
BaFin "Capital investment or security? Blockchain technology blurs the boundaries between the two."
BaFin "Driving the Capital Markets Union forward – especially now"
The blockchain strategy of the German federal government:

EU Blockchain Strategy:

The Data Strategy of the German federal government:

European Data Strategy:

Information of the BAFIN related to the legal requirements of blockchain technology:

Keynote speech by Felix Hufeld President of the Federal Financial Supervisory Authority (BaFin) as part of the 2nd Annual AFME Capital Markets Technology and Innovation Conference in Paris on 22 November 2019:

Email: manthey@evotegra.de