Key Project Data
Name of project
deltaDAO - Building towards GDPR compliant data markets


The proposal in one sentence
As a first step towards a GDPR compliant data market reference implementation, we aim to build a custom data marketplace prototype for onboarding, showcasing, development, and testing purposes.
Website
https://delta-dao.com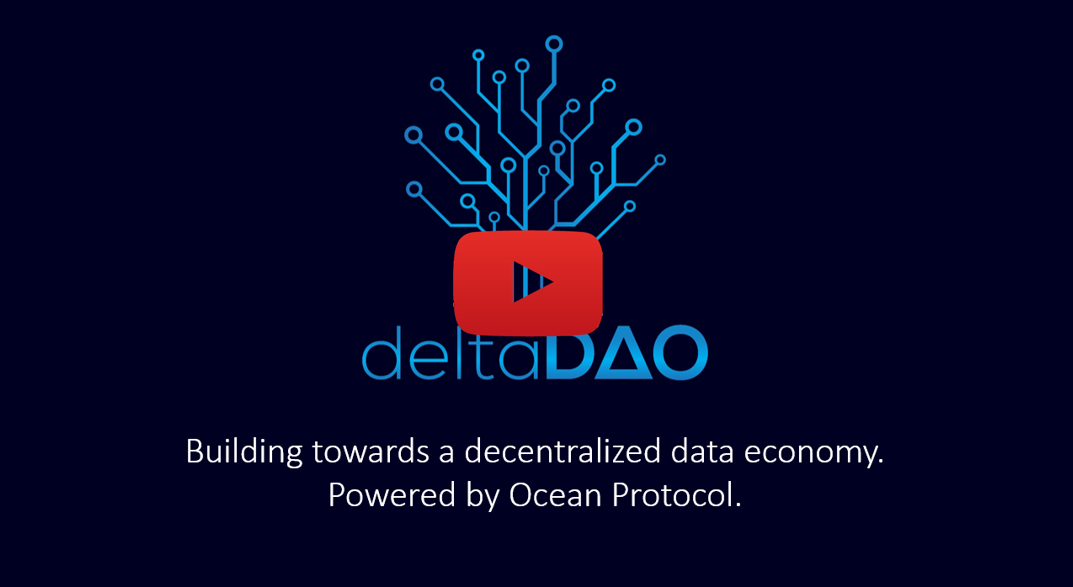 Proposal Wallet Address
0x2da922CBeB06c377741a51dDc85c735429Bc2965
Project Category
⌧ Build / improve applications or integrations to Ocean
⌧ Outreach & growth
Project Overview
Our ultimate goal is to develop a fully GDPR and regulatory compliant open source reference data market to enable adoption of data markets at scale by European enterprises and institutions.
As a first step into this direction, we aim to develop a data marketplace prototype, that is serving as a platform to collect feedback as well as to implement and test customer and regulatory requirements. Apart from that, the market will also serve as a development & test environment for Compute-to-Data (C2D).
Project details
How does this project drive value to the Ocean ecosystem?
Having a streamlined reference data market aligned with the European authorities, enterprises and institutional entities will be a key enabler for growth at scale for the data economy based on Ocean Protocol. As the European GDPR is used as a template for similar regulations world wide, the reference data market can act as a global template for regulatory compliant and privacy preserving data markets.
The market will be used for internal demonstration and onboarding purposes as well, bringing new enterprises, research institutions and non-profit organizations to the Ocean ecosystem.
What problem is your project solving?
Regulatory risks related to GDPR and the issuance of data tokens currently prevent a wide adoption of data markets by enterprises and institutions within the European Union.
In order to minimize the operational risk to all potential European market operators the long term questions we are trying to solve with this proposal are:
What are the requirements of enterprise customers?
What are the requirements of institutional customers?
What are the requirements by the financial regulators?
What are the requirements by financial authorities?
What are the requirements by GDPR?
How to integrate data markets with Gaia-X?
Which other types of markets are required? e.g. Container market
We then intend to implement these requirements in order to kickoff an iterative development process and feedback loop with all involved parties.
Who is deltaDAO?

deltaDAO is the first "Ocean Protocol" engineering, integration and consulting company, founded, built, led, operated and owned by Ocean Protocol community members and supporters.
Our vision is to unite privacy-preserving technology, data economy pioneers and Web3 enthusiasts with diverse skill sets in a company that covers the full "Ocean Protocol" stack and expertise needed to offer professional enterprise integrations.
With deltaDAO, we bundle expert knowledge in software and Web3 development, IT infrastructure and operations, GDPR compliance, IT risk management, Artificial Intelligence and machine learning, law, finance and outreach in a single company.
Our mission is to build towards a European data economy powered by "Ocean Protocol". Open source, decentralized, GDPR-compliant and followingin accordance with European values. We want to bring "Ocean Protocol" to German enterprises, research institutions and non-profit organizations.
We design, develop and integrate professional enterprise solutions, such as:
Data marketplaces
Compute-to-Data" infrastructures
Data pipelines
Custom solutions that scale
With a strong commitment to open source and the Ocean community, our goal is to create the most sustainable, user-oriented and robust solutions in the Ocean ecosystem.
We are committed to contribute a fair share of our resources to beneficial projects that help tackle important problems in society, science, research, education, medicine, and similar. Our intention is to support the "Ocean" values and to do our part to enhance open access, open science, data sovereignty, equality and AI explainability. We commit to rolling out Ocean Protocol technology for the common good whenever feasible.
Project deliverables
Category
Build / improve applications or integration to Ocean:
Roadmap
A first iteration is planned to be released in May. Afterwards we intend to implement regulatory requirements in order to kickoff an iterative development process and feedback loop with all involved parties.
ROI
Once the first marketplace showcase is developed and can enforce our outreach attempts we are certain that we will onboard further publishers and marketplaces.
We assume that a Publishers Total Value Locked (TVL) is about 30.000 $OCEAN * 10 Publishers + 1.000.000 $OCEAN * 3 Marketplaces = 3.300.000 $OCEAN
Bang: 3.300.000 $OCEAN
Buck: 6.000
Chance of Success: 90%
Roughly estimated ROI over a year: 3.300.000 / 6000 * 0,9 = 495
Team
Frederic Schwill (Tech Lead, Ocean Ambassador, Member of Ocean Academy, Member of DataUnion.app, Linkedin)
Moritz Kirstein (Full-Stack Developer, Linkedin)
Kai Meinke (Outreach Manager, Ocean Ambassador, Member of Ocean Academy, Linkedin)
Tobias Manthey (AI/ML Expert, CEO & founder Evotegra, Regional Manager German AI Association, Linkedin)
Albert Peci (Web3 Developer, Ocean Ambassador, Founder of Ocean Academy, Linkedin )
Meike Molitor (Risk and Compliance Manager, Linkedin)
Thomas (IT-Security Engineer)
Robin Lehmann (ML + Web3 Strategist, AI Program Manager, Founder of DataUnion.app, Member of Ocean Academy, Ocean Ambassador program manager, Linkedin)
Jeannine Meyer (Project Manager, Member of Ocean Academy, Linkedin )
Alexander Eger (IT Engineer, Linkedin)
Florian (Cloud Engineer)