Part 1 - Proposal Submission
Proposal in one sentence: This proposal is to develop further the Cast solution and to put commercial ticket booking and audience management in the platform
Description of the project and what problem is it solving:
VideoWiki as a project brings a decentralized approach to content ownership and sharing. It uses a customized Ocean marketplace to provide educators, researchers (content providers).
It is an Open Collaboratory Content Editing Platform that enables rapid Creation, Modification, Protection, and Monetization of Immersive Content.
Category: Build / improve applications or integrations to Ocean
Fundamental Metric: Market WAU (Weekly market participants in Ocean Market or across all data markets)
What is the final product?: Cast.Video.Wiki (Live) / Planned (Design)
The content created using our advanced AI models can be published in an IP Protected manner on the blockchain using OCEAN Protocol. The publisher maintains the IP of the content in form of data tokens which are generated through the OCEAN Protocol.
As an OCEAN community project, it serves as a conduit to add and monetize media content in forms of Videos, Video Streams and Stock Media content.
Have you previously received an OceanDAO Grant (Y/N)? YES
Grant Status and Deliverables:
Round 2: Funded (10000 Ocean)
Content Creation integration and customization to the marketplace. Onboarding the data.
Status - Completed. Live at Video.Wiki (Premium domain purchased and project rebranded)
Round 5: Not Granted
Optimization of the user journey to sign the transactions involved in the OCEAN marketplace listing. Launching the Classroom, and onboarding Class records to Market.
Status - Completed, despite not being funded. Live at Class.Video.Wiki
Round 6: Funded (18000)
Researched various streaming options to onboard to our marketplace. Build UI around the Casting flow and conducted successful pilot events.
Status - Completed. Private Beta live at CAST.Video.Wiki
Round 10: Down Voted
Only a small POC on the backend APIs is done. Will re-apply with better proposal.
Team Website (if applicable): Video.Wiki
Twitter Handle (if applicable): NA
Discord Handle (if applicable): NA
Project lead Contact Email: Support@VideoWiki.pt
Country of Residence: Portugal
Wallet Address: 0x42a19cd756651A488f1899157c45Af929bf3695F
Funding Amount: $20000
Part 2 - Team
Shivam Dhawan
Role: Co-Founder/CTO
Relevant Credentials:
LinedIn: https://www.linkedin.com/in/shivamdhawan/
Background:
BI Consulant and Analytics
Founder at GetBoarded
Web Analytics Manager at Metriplica (now Beablu)
BI Team Lead at Annalect (OMD)
Business Systems Analyst at MetLife
Web Analytics Application Developer & Consultant at Cognizat
Natalia Rheskava
Role: Co-Founder/CIO
Relevant Credentials:
LinkedIn: https://www.linkedin.com/in/nataliia-rzhevska-486a791a8/
Background:
PhD, Grygoriy Scovoroda University in Pereiaslav
Media Relations & International Medical Community (IMC) Lead
HundrED Ambassador
World Economic Forum Digital Member
Claudio
Role: Market Research / Pricing
Relevant Credentials:
LinkedIn: https://www.linkedin.com/in/claudiomatosm/ 2
Background:
Master in Management, Aveiro University
Jyoti Sing
Role: User Experience Designer
Relevant Credentials:
LinkedIn: https://www.linkedin.com/in/jyotising/
Github: https://github.com/jyotising 1
Background:
User Interface Designer at Pixocrafts
Part 3 - Proposal Details
If the project includes software:
Project Deliverables - Roadmap
Any prior work completed thus far?
What is the project roadmap? That is: what are key milestones, and the target date for each milestone.
We are working on structuring a bigger roadmap, where we plug in these data inputs through VideoWiki platform on to the ocean marketplace for the educational sale, purchase and subscriptions to the knowledge content.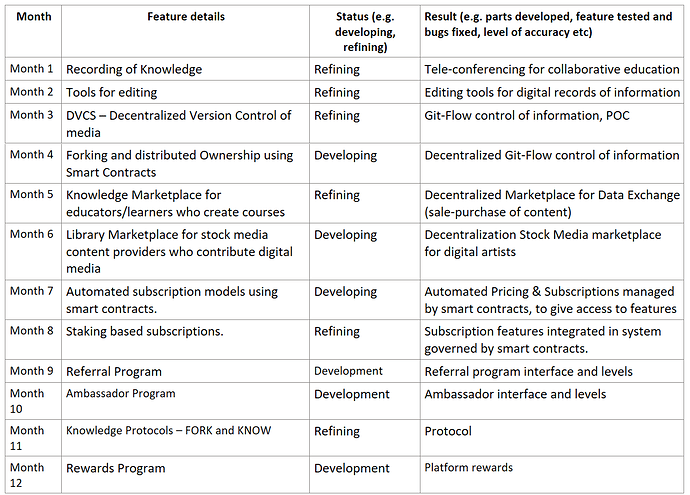 Please include the milestone: publish an article/tutorial explaining your project as part of the grant (eg medium, etc).
Please include the team's future plans and intentions.

Any maintenance?
Foreseen or possible additions?
As you understand from our project, we are building data streams to ramp up content on Marketplace (Ocean) and our integrations are running on testnet,
VideoWiki Editor + Class Records + Cast Records + Library Media* + Cast Streams* will use the AI assisted content modification / production which has a paid ramp up to the marketplace.

We are in talks with other OCEAN projects to give back the value to other community participants. While voting please consider that the path we create with our funnel would continue to lead data assets on a monthly basis and it's not just a one time grant ROI. All the streams eventually lead to the marketplace in a paid format.
Additional Information
Any additional information, custom fields, or images you would like to add? For example: Any grants or fundraising to date?
Current:
We have applied to a blockchain grant from UNICEF and have cleared first round of shortlisting for a $100000 grant in crypto/USD.
Other Awards:
EUvsVirus Hackathon Challenge Winner
Hack Back Overall Winner 2020 - UX definitions and first prize
Semi-finalist of AISolutions 2030 Solving SDG Global Goals through AI
Winners of Climate KIC Romania
Winners DigiEduHack by EIT Digital Timisora edition - EUR 1000