Name and Website: rugpullindex.com
Elevator pitch: A data set index built on Ethereum and Ocean Protocol.
Category: build & build & build & build
Introduction of rug pull index at OceanDAO Town Hall 15 recording (click image to get to youtube.com)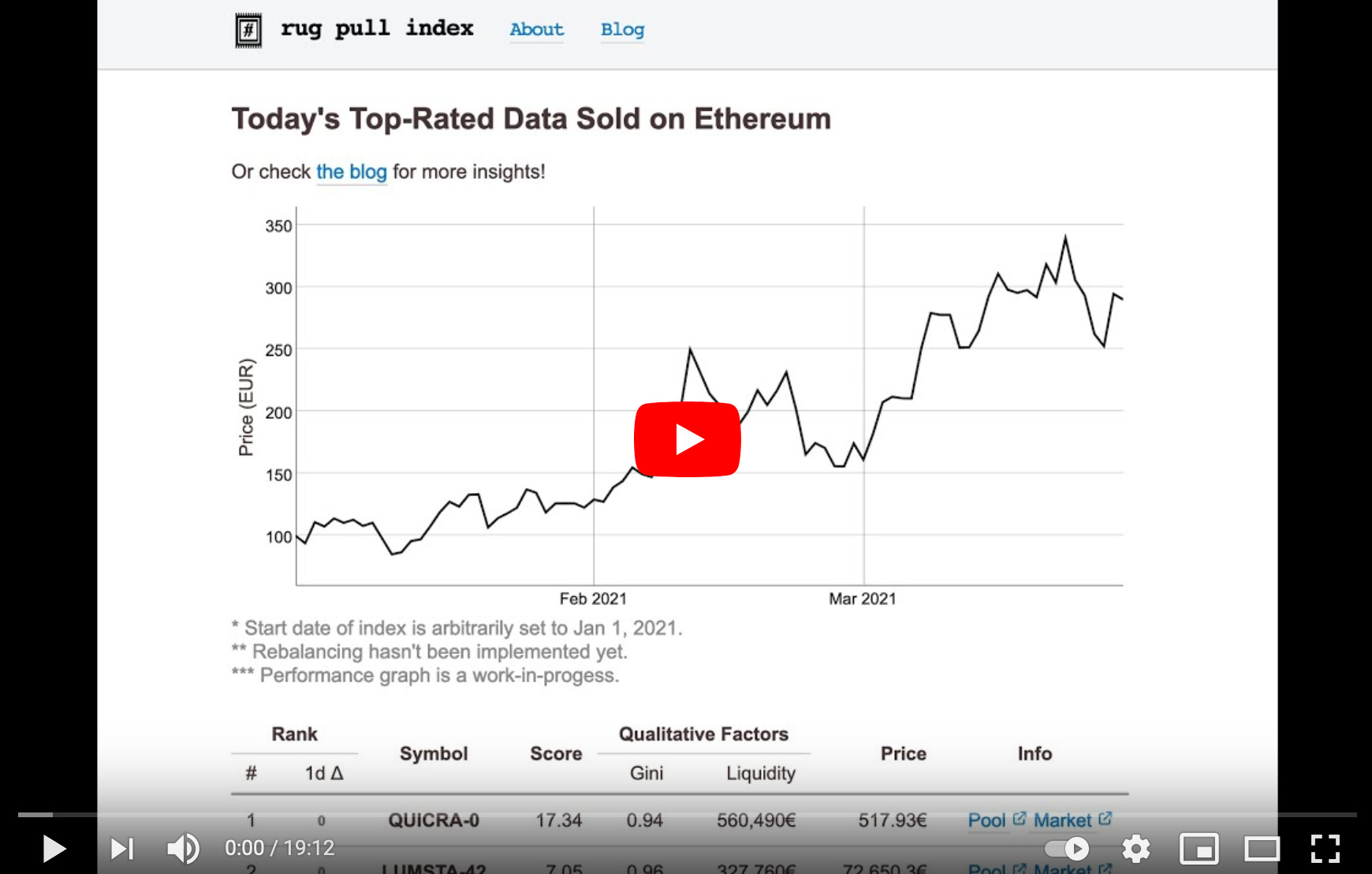 Executive Summary
rugpullindex.com helps data scientists and investors to make better decisions when buying data online. Our thesis is that markets are proxies for assets' qualities.
We believe that on-chain markets present a huge untapped source of market insight ready to be harvested. We believe that by measuring and highlighting OCEAN's diverse data sets' qualities, we can improve the market's overall health and performance.
It's our long-term goal to build an ERC-20 token that allows investors to gain diversified exposure to OCEAN's best data sets.
Here's What It Looks Like
Our Track Record
We've been a winner of OceanDAO's Round 2 and 3.
In both rounds, we've converted our OCEANs to USDC upon receiving to allow long-term planning. Through this, we now have a runway exceeding 1 month

!
March 2021 was a busy month for us. We're always shipping and constantly improving. Here's what we've been busy with:
We gave an interview to datapeek.org about our origin story.
We improved the look and feel of the front page.
We shipped the index's performance graph (check our front page too).
We integrated with a CDN for performant global content delivery.
We've had 450 visitors to the website in March 2021 (similar to last month). However, our users now spend 30 seconds more to compare data sets than last month.
Our website analytics are public. Here's a comparison of Feb and March 2021:
Why You Should Vote For Us!
Please vote for us on April 2, 2021, in OceanDAO's Round 4. Here's what we're planning to do:
We pledge to convert the received funds to USDC upon arrival to minimize our exposure risk and maximize our predictable length of operation.
We want to improve the performance graph by allowing users to choose their currency base (e.g., BTC, USD, EUR).
We want to show that investing in rugpullindex is superior to picking assets at random.
We want to allow users to compare different data set's prices in a graph.
We're closely monitoring layer 2 data markets, and we're eager to track their assets too.
We want to continue nurturing the project. And finally, we want to introduce an ERC-20 token to allow investors to gain diversified exposure to the best assets on Ocean Protocol.
Return on Investment
We've done a detailed ROI calculation OceanDAO Round 2. It continues to apply.
About Us
For now, it's me, Tim Daubenschütz, right now!
I'm a freelancer and blogger. I contribute to the cryptocurrency space since 2015, working with BigchainDB and LeapDAO on scalability. I love building.
A Word From Myself
Hi

,
I hope you liked this proposal. I'm excited to be working on rug pull index. In datapeek.org's recent interview, I probably said it best:
rugpullindex.com is somehow a mix of everything I always wanted to do: Economics, web development, and operating a business. It has a pretty exciting cryptocurrency dimension, too, especially now regarding the on-going scaling efforts.
Hence, I'd be pleased to see your support in Round 4.
Best,
Tim