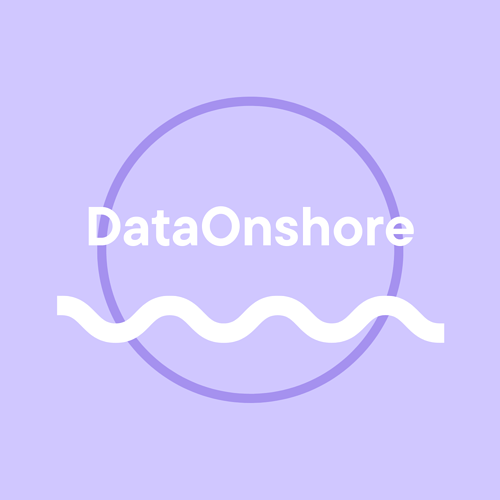 Proposal Submission
Name of Project: Onshore OCEAN
Proposal in one sentence:
Extending Ocean Protocol with an eco-system that rewards contributors to data projects and an introduction to a data applications marketplace.
Description of the project and what problem is it solving:
Currently, there is a general lack of data scientists in the Ocean eco-system. At the same time, there is a demand side issue for datasets on the marketplace. We are onboarding data scientists to Ocean who are natural consumers of data. Web3 values ensure that data scientists have ownership over their creations, and also push towards decentralization of AI.
Visual Proposal
https://www.canva.com/design/DAErnUIfGPc/X0Lx7Ve9Abe90GNzqmAYlg/view?utm_content=DAErnUIfGPc&utm_campaign=designshare&utm_medium=link&utm_source=sharebutton
Grant Deliverables:
[ ] 3+ Data Applications created for 2 verticals: Humanitarian and Healthcare
[ ] Alpha Launch, which realizes prototype and UX Feedback
[ ] Expand user funnel to 100+ Leads
Which category best describes your project? Pick one.
[ ] Build / improve applications or integrations to Ocean
Which Fundamental Metric best describes your project? Pick one.
What is the final product?:
A web app that provides a frictionless experience of exploring datasets and publishing algorithms on the Ocean Marketplace. Additionally, we want to extend the reach of the Ocean Protocol and allow for a marketplace of data applications. A DAO for data enthusiasts where data, models, and applications can be owned and governed. A breeding ground for ideas to grow between data providers, data solvers and app developers.
How does this project drive value to the "fundamental metric" (listed above) and the overall Ocean ecosystem?
Here's a spreadsheet on competetition, chance of success, ROI for the first year.
Current funding is listed at the top (these are the amounts we received funding for each round + this round)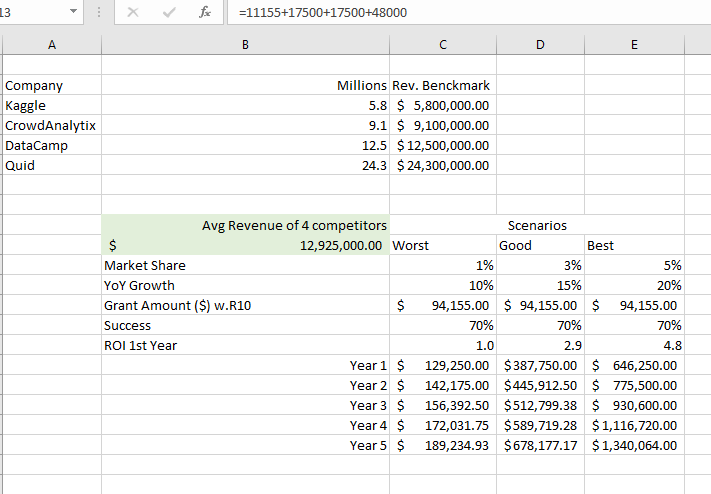 Our ROI Calculation is as follows:
(Market Share * Average Comp. Revenue / Grant Amount) * Sucess
This is >= ROI 1.0 for the worst case scenario.
The new deliverables will further increase the data consume volume by:
Teaching data scientists how to publish algorithms to the Ocean marketplace. More useful algorithms should result in more data consume volume.
C2D will enable computations that take longer than 60 seconds on private datasets, which should increase use cases and data consume volume.
Marketing to data scientists will increase awareness about Ocean and may result in more investors in the token and eco-system.
Providing a data applications will extend the usefulness of the underlying protocol
Funding Requested: (Amount of OCEAN your team is requesting - Round 10 Max @ $50,000 )
$48,000
Proposal Wallet Address: (must have minimum 500 OCEAN in wallet to be eligible. This wallet is where you will receive the grant amount if selected).
0x7af50AE9F5c72e917Fa020F406b23F0b2B685437
Have you previously received an OceanDAO Grant (Y/N)?
Y
Team Website:
Twitter Handle (if applicable):
https://twitter.com/CryptoTeuthida?s=09
Discord Handle (if applicable):
@MuddyDonut#3083
Project lead Contact Email:
Country of Residence:
US
Core Team ****
For each team member, give their name, role and background such as the following.
Julian Martinez
Role: Full stack developer, Data Scientist, Product Wizard
Relevant Credentials (e.g.):
Background/Experience:

BI Engineer at AmerisourceBergen (Fortune

#8

)
Data Analyst for cybersecurity startup A-LIGN, and local retailer
Constant Kouman
Role: Growth Hacker, Business Development, Data Application Developer
Relevant Credentials (e.g.):
Background/Experience:

Assistant Director at AmerisourceBergen (Fortune

#8

)
BI Developer for governments and consultancies
Tinesha Erskine
Role: Front-end developer, UX Researcher
Relevant Credentials (e.g.):
Background/Experience:

Data Analyst for Healthcare company Leading Edge Administrators,
Workforce and Real-time Analyst for Healthcare company U.S. Imaging
Project Deliverables - Category:
IF: Build / improve applications or integration to Ocean, then:
Data Applications will be hosted on our Alpha Site
The Alpha launch will be made public for all
User Funnel metrics will be communicated in town halls and our Notion page
Project Deliverables - Roadmap
Any prior work completed thus far?
Manta Ray Research: At first, we located the Manta Ray notebooks and got them running locally. We also did some digging to find out why they were retired. After talking to Trent, it turned out that they weren't a worthwhile pursuit. Firstly, they were designed for use with public datasets. Ocean doesn't really have a USP here compared with common HTTP of the internet. Also, these notebooks essentially showcased the functionality of ocean.py. There's already documentation for that. Also, we think that this functionality should be hidden from a data scientist user as much as possible. Overall, we learned that the notebooks should show off the USPs of Ocean Protocol (e.g. developing on private datasets) for data science. We defined several interesting use cases for data scientists on our Notion page
here.
PoC Notebooks: We created a JupyterHub instance here (ADD LINK) to host the notebooks (until our web app is up and running). This reduces the friction for onboarding data scientists by pre-installing packages like ocean.py and setting the config. The notebooks focus on teaching a workflow for data science on private datasets. We have uploaded some standard public datasets to the Rinkeby test net (see here). While these datasets are freely available online, data scientist can practice using the Ocean marketplace to learn about the process. They will then be able to apply this process to work with datasets that are not publicly available. For this round, we will add notebooks to show the workflow for exporting and uploading algorithms to the Ocean Marketplace.
Landing Page: We have just launched our landing page. Check it out here.
Wire Frames for Web App: We are moving towards an integrated web app to replace the hosted notebooks. You can check out the wire frames for the web app here. Have a look at the mood board here for some of our inspirations.
User Acquisition Plan: We have created a preliminary plan for acquiring users. You can check it out here.
Notion: We now have an extensive Notion project set up to help to improve transparency. You can check it out here and keep up with our progress. Of particular interest for OceanDAO is our deliverables tracking and our Kanban board.
Business Plan: We have begun working on a business plan. We started with mapping out the problems faced by Data Solvers and Data Providers. You can check it out here.
Alternate Future Summit: We will be showcasing and presenting at the conference. You can check out our showcase page here.
Kernel Block 4: We have just been accepted to the KB4 accelerator. We want to create a breeding ground for collaborations between data scientists and data providers.
Team Additions: We welcomed Hithesh, Contributor, and Tinesha, Contributor, to the team this month

Check out our team directory here.
Team Changes:
Gaining
Core: Constant Kouman, Asst Dir. has joined as a core member and Growth Hacker
Core: Tinesha has joined full time as the Onshore OCEAN Product Manager
Leaving
Core: Richard has left to pursue Kernal Block 4
Contributor: Hitesh has left to pursue Kernal Block 4
We hope to see some really cool progress from these two as they pursue this awesome opportunity.
Core member payout changes:
In order to incentivize work on a different psychological level, we will be implementing superfluid as our Core team payout platform. We hope to gather more insights from our approach and other opinions
Revenue Model, Marketing Plan, Compute to Data Models, and UX Research can be found here
What is the project roadmap? That is: what are key milestones, and the target date for each milestone.
Q4
Launch alpha site
Integrate in browser coding platform for new members of the Ocean Protocol
Create a data application marketplace utilizing Ocean Assets
Create a brand identity
Increased presence at in person events and hosted talks
Reach 100+ user signups for the platform (including prior traction sign ups)
Gather influence in the Data DAO space
Increased presence at Ocean Town Halls (min. 2 a month)