Consolidating Ocean Academy as a catalyst for adoption and growth of Ocean Protocol
See OceanAcademy Shrimp Proposal here.
Key Project Data
Name of project
Project Oyster

Website
Proposal Wallet Address
0x5cFDBd9150596b790AAe28e003EFfac9f29081F9
The proposal in one sentence
Project Oyster consolidates project Shrimp (OceanDAO round I) to deliver a comprehensive education platform designed to act as a catalyst for the adoption and growth of Ocean Protocol.
Project Shrimp is on track for completion by February 8, 2021. Current status:
The marketing campaign with ads on Twitter and Google debuted on January 19 has been a success so far, delivering over 163K impressions half-way through the campaign, leading to a +496% increase in traffic to oceanacademy.io landing page.
The web app is being worked on as we speak

Landing page front-end (with multi-tracks integration) is nearly finalized
Menus and various UI improvements have been committed
21 issues have been raised in Github and 14 of them have been closed
32 merge requests have been created and have been 31 closed
A new webpage was built to seamlessly link to the Ocean Ambassador recruitment program

A new DeFi module is 90% ready and will have 6 chapters instead of 5.
The smart contract for the Ocean101 Web3 (NFT) certificate is ready and will be deployed once back-end migration is completed.
A Gitbook was delivered
Updated infrastructure.
Project Category
⌧ Outreach & growth
⌧ Unleash data
Project Overview
Background
Ocean Academy is a community initiative started by Ocean Ambassadors. Its goal is to lower the intellectual barriers required to grasp Ocean Protocol's mental models and technology.
Many people, including data owners, developers and data scientists, are not familiar with blockchain and smart contracts yet. Web3 solutions are foreign to both developers and the general public, hence we aim to reach the broadest audience possible rather than solely catering to Web3 natives.
Ocean Academy is a comprehensive project encompassing all competencies relevant to the success of Ocean Protocol. The Academy is different from tutorials and publications, which are specific to short term needs or development milestones. It is different from reference documentation, which is more complete, often developer-focused and not delivered in a learning-focused fashion.
Ocean Academy has brought in numerous new Ocean Ambassador candidates and contributors to the Academy. The team has grown from 4 people to 15 contributors, stirring innovation and a drive for further development.
Community feedback has been very positive. And the feedback made it clear that Ocean Academy doesn't have to only teach technical skills, but can serve as an effective outreach platform for Ocean Protocol.
Ocean Academy has all it takes to educate people about Ocean Protocol and its broader impact, and push the message out of the Web3 boundaries to generate healthy growth.
Our Mission
Our vision is to establish Ocean Academy as a catalyst for adoption and growth for Ocean Protocol.
We want to build Ocean Academy as a platform for outreach, onboarding and skill-building for Ocean Protocol. Namely, it will serve the following purposes: \
Support the Ocean Protocol ecosystem
Onboard selected communities to Ocean Protocol
Further the outreach of Ocean Protocol
Increase overall understanding and expertise in Ocean Protocol
Stir ecosystem engagement
We want to make the Ocean Academy a central piece for onboarding users, builders, ambassadors, and all other community members with Ocean Protocol through:
Integrative experience for new Supporters and Ambassadors of Ocean Protocol
Increased collaboration between all people who have a certificate willing to contribute
Promoting best-practices throughout the Ocean Community
We want to set Ocean Protocol on a path to a flourishing ecosystem at the center of the decentralized data economy.
Project Oyster is set to consolidate the progress made with project Shrimp. It sets the ground for future developments and kick-starts proactive outreach to generate growth for Ocean Protocol.
Project details
Project Oyster cements the additions brought by project Shrimp. It applies for an incremental budget to continue the development of OceanAcademy while acting as a community growth catalyst.
A coherent and forward-looking concept for Ocean Academy, revolving around the priorities for Ocean Protocol ecosystem growth with 3 tracks:

Development (the "BUIDL" series)
Ecosystem (the "ECO" series)
Outreach (the "OUT" series)

Improvements to Ocean Academy
4. UI/UX improvements: layers, dedicated page for different courses (upgradable)
5. Animations/dynamic content
6. Addition of testimonials
7. NFT certificate for all courses
Enhanced marketing:
8. Keep airing the ad campaign targeting AI and data scientists on Twitter and Google (with the allocation of an extra >1K OCEAN)
9. Creation of medium article, relayed by prominent influencers
10. Creation of a podcast (already scheduled for German, TBC for English)
11. Promotion of testimonials for Ocean Academy
Project Oyster is the next step forward to make the Ocean Academy more community-centric. We want to involve the community as much as possible when it comes to creating content and expanding the horizons; the group is open and keeps growing. Github is open, and anyone can join the effort.
1. Education Curriculum
The education courses revolve around the main contributions required to develop the Ocean Protocol ecosystem: development/integration, usage, and outreach.
In our proposed design, each field has its own "Series", with its own learning objectives and corresponding modules. This provides the flexibility to develop modules in the different "Series" independently / on a need basis.
1.a. The "BUIDL" Series
An education track to onboard Web3 builders to develop on Ocean. This series targets the most technical developers and builders, willing to contribute to Ocean Protocol core or build Web3 apps on top of Ocean Protocol.
Importance of the "BUIDL" Series:
Increase the pool of contributors to Ocean Protocol software
Provide ideas and guidance for developers to fork Ocean Protocol material and adapt to specific verticals' need (e.g. build a marketplace)
Provide ideas and guidance for developers to build new solutions with Ocean Protocol
Provide a gentle onboarding for integrators and collaborators
Increase technical understanding of Ambassadors and other users of Ocean Protocol
 
Potential modules going forward (part of Academy vision, listed for reference, but not in the scope of this proposal):
Setting up a dataset for Compute to Data (C2D) will be the next candidate

For Data Publishers
For Data Consumers

Connecting your data pipeline or your App to OP
Creating your own marketplace
Maintaining/ updating/ migrating a dataset/data token
Monetizing your algorithm
1.b. The "ECO" Series
A track focused on the usage of Ocean Protocol. This series targets business people and organizations dealing with data, data architects, scientists and AI practitioners. Anyone who creates value from data in a business context.
Importance of the "ECO" Series:
Provide users with basic security knowledge
Give the market participants structured processes on how to deal with bad actors or compromised accounts/wallets.
Lower (mental) entry barriers for businesses and institutions that value data protection and security.
Increase the pool of users to Ocean Protocol software
Onboard businesses into Ocean Protocol
Improve data quality signaling through better liquidity pools management and investment guidance
Provide users with knowledge on reputation and trust-building in the market
Provide a simple onboarding for users, focused on how to work with the Ocean Protocol stack the easy way
Provide integration guidance to upgrade data workflows to the Web3 economy
Expand the Ocean ecosystem by providing guidance on running one's own marketplace
Potential modules going forward:
Securing your Web3 assets
Liquidity Pools implementation (using Balancer)
Supply liquidity / Bet on Data sets
Launch a new Data set / IDO
Data Tokenomics
Safely trading data tokens
Best Practices with Data Markets & Pool Lifecycle
1.c. The "OUT" Series
A track focused on Ocean Protocol outreach to society. This series targets non-technical movers & shakers with vulgarized content to maximize the outreach potential of Ocean Protocol. Not everyone can build a new face ageing app, but everyone can use it and share it on their social handles.
Importance of the "OUT" Series:
Grow a wider community for Ocean Protocol
Rally influential people with responsibilities in public bodies and the price sector across communities and countries.
Cultivate a positive image of AI and blockchain, and address skepticism on Ocean Protocol.
 
Potential modules going forward :
Ocean Protocol for Dummies
Ocean Protocol Applications
2. Improvements to Ocean Academy
User experience is very important. Right now the website UI is only designed to accommodate Ocean101 and the new Data DeFi module. The website will need new pages and menu restructuring to enable the new modules. The main changes will be:
a) UI/UX improvements
Improved multimodal menus. The menus should display the progress of each chapter. We will add new icons and update the data models and backend to allow more granular and advanced progress tracking…
Layers/blocks on pages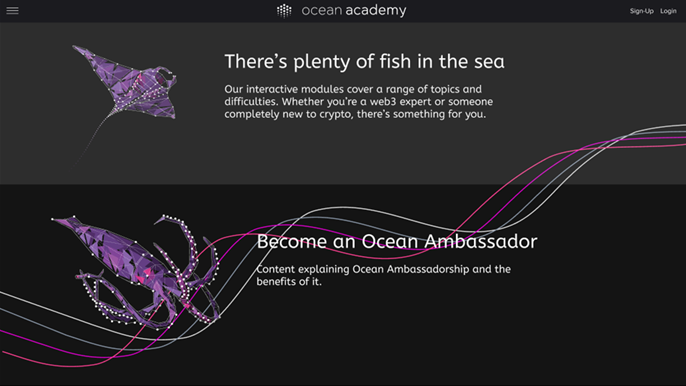 Dedicated page for different courses, upgradable, with progress saving in the back-end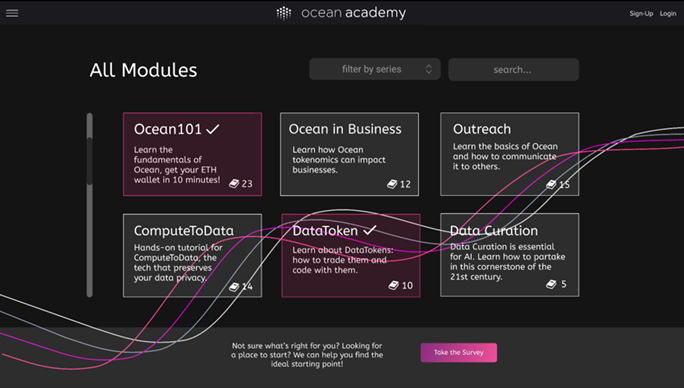 b. Animations/dynamic content
This proposal encompasses a dedicated analysis of the current user flow for the Ocean Academy. We want to use simple animations to increase conversation rates while giving the user an enhanced experience.
Besides animations, we'd like to provide feedback for the user with respect to course finalization and module progress.
c. Addition of testimonials
d. SEO optimization
Since the Academy is running as a single-page application it is not optimized for SEO. Currently, when looking for 'Ocean Academy' on search engines like Google, it does not even show up on the first few result pages. We would like to further improve this so that (new) users can easily find us if they only heard of our name but do not know our domain yet.
3. Enhanced marketing
Besides extending the successful awareness campaign for Ocean Protocol / Ocean Academy through Twitter and Google ads, Project Oyster encompasses an influencer/network growth strategy with the creation of articles, interviews and a podcast in the planning.
The strategy and contents for the marketing campaign will be shared with the community in a transparent way and we encourage everybody to contribute to our campaign through comments, ideas and shared experiences.
Feedback and contributions can be made by anyone through an open document.
4. Deliverables
Multiple improvements to Ocean Academy website around UI/UX as described in the scope
A beefed-up marketing campaign targeting AI and data scientists
5. KPI Targets
By End-March 2021

Unique visits to Ocean Academy: 10'000 (currently 3'701)
200 new Ocean 101 certificates issued (currently 179)
Retain high conversions rates (enrollment, completion)
Expected short term ROI:

For the sake of simplicity, we use the ROI of project Shrimp (OceanDAO Round 1) and divide by 2 as this round of grant would double the budget allocated.
Ocean Academy ROI = 3'297 / 2 = 1'648.5

Ongoing

Significant growth of Ocean Protocol Ambassadors
Significant growth of Ocean Protocol Community:
3. Data buyers & sellers
4. Data curators
5. Project supporters
This is expected to significantly impact the growth of Ocean Protocol. Each new ambassador, user, curator, token holder and supporter has the potential to spread the word and extend the outreach of the network further.
Given our program targets users of Ocean Protocol, we believe this will help kickstart network effects, resulting in major growth and adoption of the ecosystem.
Team
Ocean Academy will be built by a distributed team scattered across all continents, with a diverse set of experience and expertise. Talent in the team is considerable and each member is actively contributing with her/his own skills; all of which blend into our secret sauce.
Processes were put into action to enable agile development at scale while ensuring maximum quality in deliverables.
Meet the Crew
Our Values
Content Quality. Content should be easy to understand, always correct and updated accordingly.
Inclusiveness. We provide public chats and documentation to onboard new contributors and welcome everyone who wants to improve their skills while helping a real-world project.
User experience. We understand that an engaging experience helps to better grasp abstract and new concepts. We are not just another written tutorial but an interactive learning platform.
Transparency. All our groups, code and planning are public and open source.
Work Processes
Our objective is to be inclusive and to keep growing the team involved in Ocean Academy. We want our project to reflect the values of Ocean Protocol with respect to inclusiveness and openness. We welcome every new contributor.
This has required a change in the way we work as a team. Coordination with 4 people is easier than with 15 people, or 50, and we have now created a structure supporting team expansion.
Some of the new processes we have implemented to support us on our mission:
A committee responsible for output quality
A governance & collaboration framework
Regular meetings
Agile project management tools
This new structure allows us to work independently, following the transition to a fully decentralized governance model for Ocean Protocol - of course, the inputs from the Ocean Protocol Foundation will always be welcomed.
We may also formalize our organization further with an Ocean Academy DAO.
Supporting Tools
Communication

Bi-weekly agile reviews
Telegram Chat

Collaboration
3. GitHub (DEV)
4. Trello (Task management)
5. Doodle (Meeting scheduler)
6. Google Hangout (Meetings)
App software stack
7. React + Typescript (frontend)
8. Nodejs + MongoDB + Koa + Typescript (backend)
Deliverables Roadmap
February 8, 2021
Website improvements delivered (90% done)
NFT certification (90% done)
New module delivered (90% done)
Marketing campaign live (done)
End March 2021
Performance review
Delivery of Project Oyster
Future plans
March/April 2021
New Module focused on C2D in the "BUIDL" Series
Continuation of the marketing campaign (TBC)
May/June 2021
2x 5 New modules
New marketing campaign (TBC)
Why this proposal makes sense
Project Oyster represents the second step in moving towards the Ocean Academy mission to drive adoption for Ocean Protocol.
Project Oyster consolidates the structure around the different learning verticals.
It provides a modular foundation for ongoing development, following the principles applied during the development of Ocean101.
It provides an open environment where contributors are free - and encouraged - to develop the Ocean ecosystem from their own initiative.
It also makes it adaptive to the needs when they arise.
It makes it easier to align contributor skills with specific learning objectives.
The creation of a new module is suggested, with the aim to significantly contribute to Ocean Protocol ecosystem growth. This particular module was chosen as a vehicle to showcase the unique and exciting features of data DeFi to drive adoption, following the guidance from the Ocean community.
This is the only project looking to invest in marketing activities beyond Medium and social media, which are typically limited to the Web3 community. This will significantly improve the visibility of Ocean Protocol, and offer valuable learnings on this new activity.